Bus carrying wedding guests swept away by stream in Kashmir; 70 missing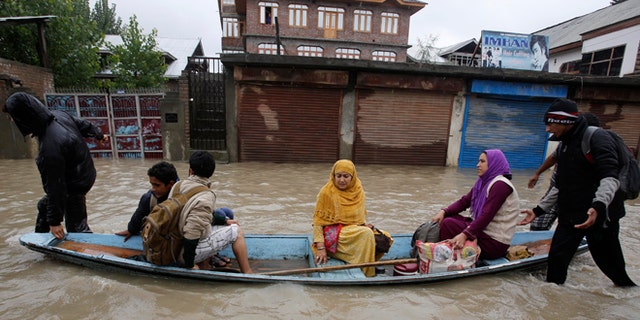 NEWYou can now listen to Fox News articles!
SRINAGAR, India – An overcrowded bus carrying wedding guests was swept away Thursday by a flooded stream in the Indian-held portion of Kashmir and about 70 people were missing, a state official said.
Rescuers were searching for the bus but had not been able to locate it in the gushing waters, said Shantmanu, who uses only one name.
The passengers were on their way to a wedding ceremony in a village in the Rajouri region, about 110 miles southwest of Srinagar, the main city in the Indian-held portion of Kashmir.
The bus reportedly had a capacity of only 54 people. Shantmanu said rescue efforts were being hampered by heavy rain and strong currents.
The region's wedding season has been disrupted by heavy rains and the worst floods in 22 years, and many ceremonies have been postponed.
At least 14 people have died in the past two days, and authorities closed schools and colleges and stopped train services in the area on Thursday. Meteorologists said the heavy rains were likely to continue for another two days.
Police officer Imtiyaz Hussain said the 14 victims were swept away by floodwaters or buried by mud from mountain slopes. They included a paramilitary officer whose bunker collapsed on him.
Soldiers and rescue workers used boats to move thousands of people to higher ground. At least 100 villages across the Kashmir valley were flooded by overflowing lakes and rivers, including the Jhelum river, which was up to 4 feet above its danger level, officials said.
Landslides and floods are common in India during the monsoon season, which runs from June through September.
Parts of Srinagar were also flooded. In Bemina, a large neighborhood, thousands of residents waded through ankle-high water that entered their homes.
Authorities evacuated 5,000 people from the neighborhood and 100 others were believed to be stranded there.
Kashmir is divided between India and Pakistan and claimed by both. They have fought three wars, two of them over control of Kashmir, since winning independence from Britain in 1947.