British Prime Minister Cameron in Afghanistan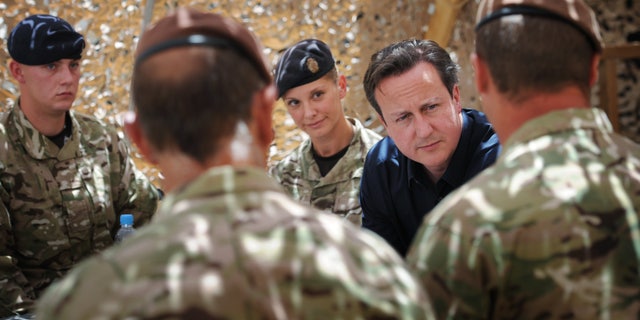 The British prime minister backed up a pledge to pull more troops out of Afghanistan next year, during a previously unannounced trip to a restive province on Wednesday.
Britain's contingent is second in size only to U.S. troop strength among Western forces in Afghanistan. Britain plans to pull 500 troops out by December but has not given a timetable for others to leave. NATO plans to turn over security responsibility to Afghan forces by the end of 2014.
Cameron was holding talks with British and Afghan officials in the southern province of Helmand, where Britain has around 9,500 troops.
After visiting soldiers at a base in Lashkar Gah, Helmand's regional capital, and at smaller forward base in Nad Ali, Cameron said he believed the handover of security duties from foreign to local forces was progressing well.
He questioned British soldiers at both camps about the capability of the Afghan army and police, and said their responses would help inform decisions on how many troops to withdraw next year.
Cameron confirmed that a decision on British withdrawals during 2013 would be announced at the end of the year.
Officials have cautioned against public hopes of a major drawdown next year. Britain is expected to confirm its strategy only after a planned meeting in October of Britain's National Security Council, which includes ministers, military commanders and spy chiefs.
"I don't want to raise false hopes. There will be a modest reduction this year, there will be further reductions next year," he told reporters at Camp Bastion, a vast British base in Helmand.
Cameron said he was "encouraged" by progress in Helmand, particularly after visiting troops at Forward Operating Base Shawqat in Nad Ali, which borders a bustling bazaar that didn't exist on his last visit two years ago because of fierce fighting.
Troops praised their Afghan counterparts over a juice and tea with Cameron at the base's store and cafe -- decked out in British flags and bunting.
"Their soldiers are no different to ours, they are a little bit lazy compared to ours, but they can go out and fight, they can go on one knee (to fire rifles). They are more than happy to go forward and push the Taliban back," Company Sgt. Maj Nathan Love, 37, said he had told Cameron.
The British leader said he believed the troops' accounts of work alongside Afghan forces were unvarnished.
"British army soldiers aren't going to give you a rose-tinted view of other soldiers. But they say that (the Afghan troops) are brave, that they feel proud to fight alongside them. Increasingly, the more you ask them to do, the more they are able to do," he told reporters.
He said he believed Afghanistan's police and army would be able to provide "a basic level of security" once foreign forces step back from combat roles.
Cameron also held talks at Camp Bastion with Estonian Prime Minister Andrus Ansip, who was visiting Helmand to meet some of his country's 165 troops serving there.
President Barack Obama has already confirmed that around 23,000 of the 90,000 American troops in Afghanistan will withdraw by September -- including from Helmand, which analysts say could put further strain on British forces.
"The immediate challenge is going to be that the Americans are pulling a large number of forces out of Helmand this year, leaving it very vulnerable to attack," said Malcolm Chalmers of London's military think tank, the Royal United Services Institute.
Britain has signaled it does not plan to expand its area of operations from the province's center, meaning the Taliban could seek to recapture parts of northern Helmand, previously the scene of intense combat.
Violence raged in Helmand just ahead of Cameron's visit there. The provincial governor's office said nine Afghan soldiers were killed Tuesday night when militants attacked an Afghan National Army checkpoint in the Washer district. Seven insurgents were killed in the attack, the governor's office said.
Insurgents also clashed Tuesday night with Afghan police in Nad Ali district. An insurgent commander was killed and six other militants were captured during the battle, the governor's office said.
The British leader's visit comes after three British soldiers were killed on July 1 by an Afghan policeman as they attended a meeting of local officials. A total of 26 foreign troops have been killed so far this year in killings involving Afghan security forces attacking NATO allies.
Cameron met with British troops after his defense secretary, Philip Hammond, acknowledged morale within the military was "fragile" because of budget restraint and cuts to units.
Britain's army will shrink from 102,000 troops to 82,000 by 2020 under the government's program of spending cuts. The military is handling an 8 percent cut to its annual 37 billion pound ($59 billion) defense budget.
Britain already announced it will offer about 70 million pounds (US$110 million) per year from 2015 to help fund Afghanistan's police and military after foreign forces have left.