British PM visits Kazakhstan on trade mission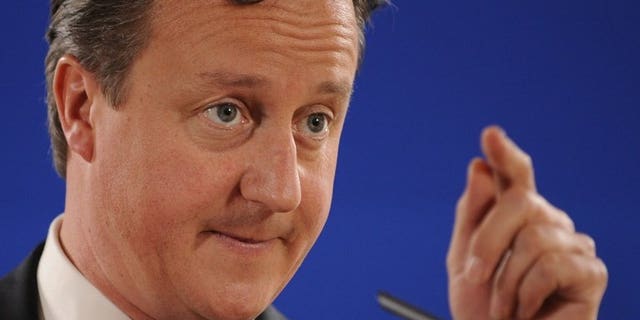 ASTANA, Kazakhstan (AFP) – David Cameron arrived in Kazakhstan on Sunday on the first ever trip by a serving British prime minister, hoping to boost trade ties but also promising to raise human rights concerns.
The British leader landed in the oil capital of Atyrau on the Caspian Sea, where he was met by President Nursultan Nazarbayev, the Kazakh presidency said.
The two leaders discussed prospects for boosting economic and trade cooperation ahead of more talks on Monday in Astana.
Cameron is leading a large business delegation to the mineral-rich Central Asian nation and hopes to sign trade deals worth more than ??700 million ($1.06 billion, 820 million euros).
"We're in a global race for jobs and investment. This is one of the most rapidly emerging countries in the world," the prime minister told the BBC in Atyrau.
"I have over 30 British businesses with me, we're hoping to sign over ??700 million worth of deals. That will mean jobs back at home, and also investment in this rapidly growing economy."
He said he would be opening a British investment in a major oil field, noting that Kazakhstan would soon be one of the world's top ten oil producers.
Cameron stressed however that "nothing is off the agenda, including human rights" in his talks with Nazarbayev.
"We will raise all issues, including human rights -- that's part of our dialogue, and I'll be signing a strategic partnership with Kazakhstan. I think that's important," the prime minister said.
"But we need for Britain to get out there and win. We need our businesses to win, we need jobs back at home, we need that growth and investment. "
Human Rights Watch has urged Cameron to raise allegations of torture, the imprisonment of government critics and limits imposed on the media and freedoms of expression and religion.
"It is essential to convey to the government of Kazakhstan your deep concern about serious and continuing rights violations there and the need for the government to take decisive action to address them," the group's UK director David Mepham wrote in an open letter to the prime minister this week.
Cameron arrived from Pakistan, where he met Prime Minister Nawaz Sharif to discuss efforts to reach a peace deal in neighbouring Afghanistan before the planned withdrawal of NATO troops.
On his way to Islamabad, he stopped off in Afghanistan to visit some of the 7,900 British troops fighting the Taliban.