British clean-up begins on rescued German WWII bomber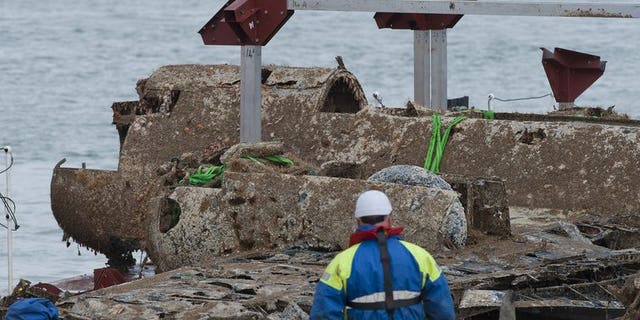 LONDON (AFP) – British experts began on Tuesday an 18-month task of cleaning the barnacles, silt and seaweed from a rare World War II German bomber plane rescued after more than 70 years on the sea bed.
The wreck of the Dornier Do-17 plane was slowly raised to the surface at Goodwin Sands, off the southeast coast of England, on June 10.
The twin-engine aircraft is believed to be the only Dornier Do-17 left from the war.
Conservation staff at the Royal Air Force (RAF) Museum's site in Cosford, central England, are spraying a diluted citric acid onto the wreck to clean away the debris and reveal the airframe underneath.
Darren Priday, the museum's deputy manager of conservation, said the process could take between 18 months and two years.
"The idea is that it (citric acid) will remove the impurities from the salt water and also the crustaceans," he said.
"The barnacles have done something (to preserve the aircraft) but also some parts have been underneath the sand.
"Some areas have deteriorated badly but the natural products, like your rubbers and leathers, have survived quite well.
"We'll do the conservation side and see what we've got left at the end."
The bomber will eventually be displayed at the RAF Museum's main site in north London.
The aircraft was shot down during the Battle of Britain in 1940, but it was only discovered in 2008 when it was spotted by divers. Sonar scans confirmed it was a Dornier Do-17.
The bomber, of which around 1,500 were made, was nicknamed the Luftwaffe's "flying pencil" due to its narrow fuselage.
The Battle of Britain began on July 10, 1940, and ended on October 31 the same year.
More than 2,900 British, Commonwealth and Allied airmen took part in some 600 planes -- fewer than half the 1,750 German aircraft involved.
Despite being heavily outnumbered, the RAF defeated the Luftwaffe in what is considered a turning point in World War II.
Hundreds of German bombers were shot down during the battle, almost all of them were smelted and turned into British aircraft, according to the RAF Museum.