Britain, France Vow to Topple Libyan Leader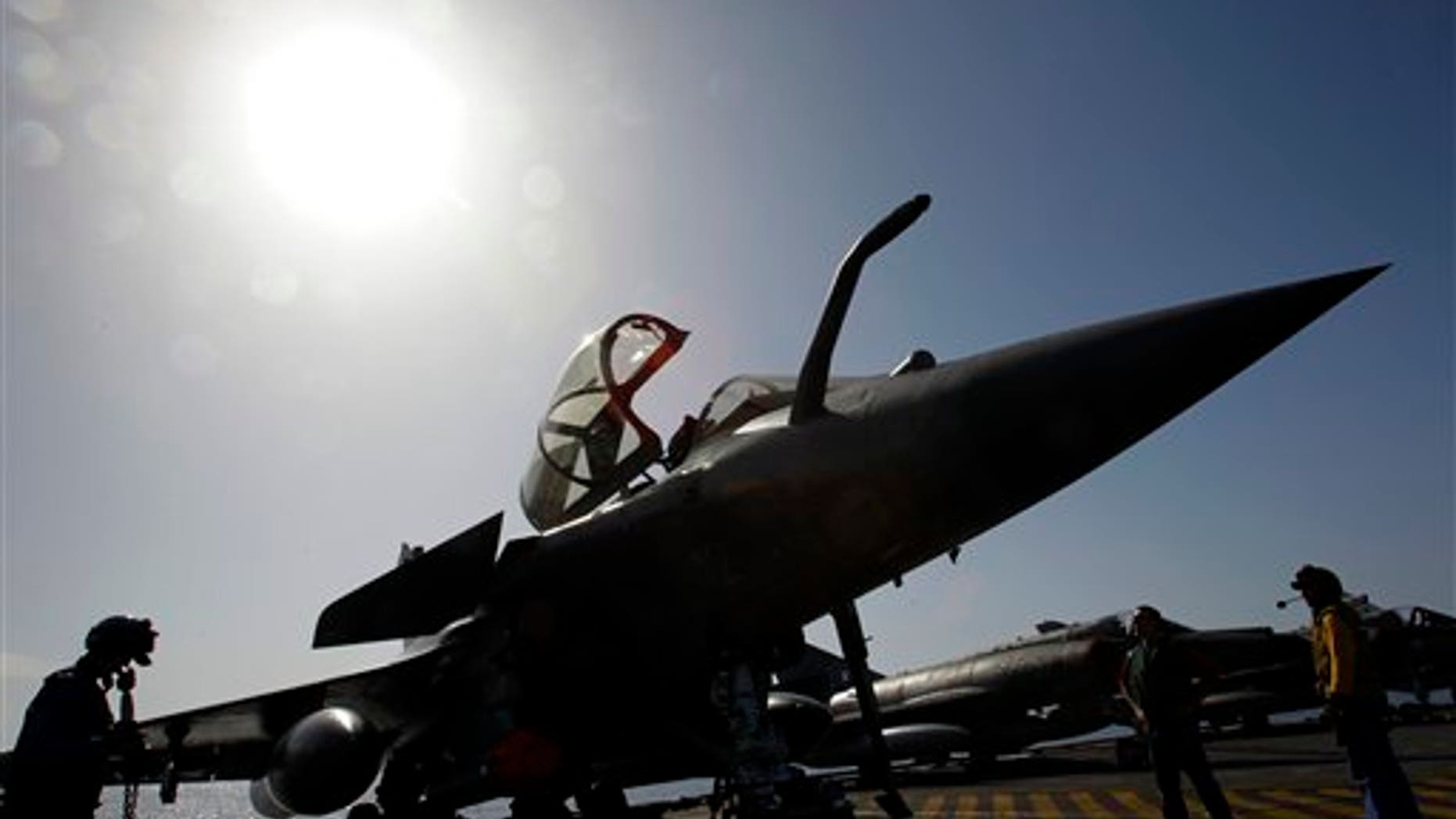 PARIS -- British Prime Minister David Cameron pledged Wednesday that Britain and France will leave "no stone unturned" as they look for ways to help Libya's rebels topple Muammar al-Qaddafi.
French President Nicolas Sarkozy hosted Cameron and their defense chiefs amid a public rift with the United States over the NATO-led campaign that has failed to rout Qaddafi's forces after three weeks of airstrikes.
France and Britain -- western Europe's biggest military powers -- have largely spearheaded the campaign, and Cameron said the talks would focus on how they can further help the Libyan opposition.
Arriving for the meeting, Cameron said Britain and France would seek ways to halt Qaddafi's assault against civilians in places like the besieged city of Misrata -- the only city in western Libya still partially held by rebels.
"It is appalling what Qaddafi is doing in Misrata -- he is murdering his own citizens, including children," he said. "The orders come directly from him. But NATO has taken steps, we have destroyed dozens of tanks and other armored vehicles around Misrata."
Earlier, France urged NATO to maintain military pressure on Qaddafi's forces alongside international efforts toward a political solution. France says the alliance is not doing enough to back up the muscular U.N. Security Council resolution aimed to protect Libyan civilians that led to the NATO action.
"Britain and France are at the heart of this coalition, and with President Sarkozy I am going to be sitting down to make sure that we leave no stone unturned in doing everything we can militarily, diplomatically, politically to enforce the UN resolution, to put real pressure on Qaddafi, and to stop the appalling murder of civilians," Cameron said.
Meanwhile, Cameron's office issued a statement saying Britain has decided to supply 1,000 sets of body armor from surplus British military supplies to Libya's opposition -- on top of 100 satellite phones it has already sent.
British and French officials believe Washington's military strength is needed to ensure the Libya mission's success. But the Obama administration insisted Tuesday that the U.S. will stick to its plan to remain in the back seat.
The meeting in Paris came after an international conference in Doha, Qatar including the U.N. secretary-general and other top Western and Arab envoys to discuss ways to end the Libyan crisis.
The statement from Cameron's office said that it welcomed an agreement in Doha to support the opposition Interim National Council in Libya and the creation of a "trust fund" aimed to support the opposition.
Earlier Wednesday, French Foreign Ministry spokesman Bernard Valero insisted that "NATO must not relax military pressure" and its military action should be adapted based on decisions made in Doha.
In Britain, a U.K. military spokesman, Maj. Gen. John Lorimer, told reporters: "From our point of view we recognize the NATO-led operation is delivering real effect." He declined to elaborate on whether NATO was acting quickly or efficiently enough, and deferred to the alliance.
At a Cabinet meeting Wednesday, Sarkozy reiterated the need for the operation to protect civilians "from massacres," said government spokesman Francois Baroin.
"The military strategy for protecting civilians and the diplomatic strategy should advance in parallel," Baroin said.
British Foreign Secretary William Hague said Wednesday the military intervention in Libya will end with Qaddafi's departure, but he cannot predict how soon that could happen. He said he believes Libya's opposition is "steadily becoming better organized."
"Do not underestimate what is being achieved here," Hague told the BBC from Qatar. "With the airstrikes we have conducted, thousands of lives have been saved."