Brazilian surgeon probed over model's death after 'Chinese Mustache' procedure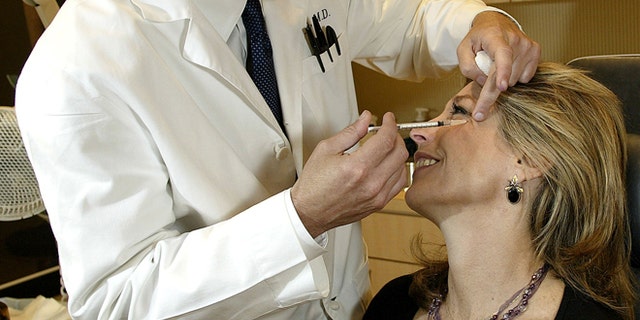 NEWYou can now listen to Fox News articles!
A Brazilian plastic surgeon allegedly forged the death certificate of a model who died undergoing a cosmetic surgery procedure known as a "Chinese Mustache."
Police in Rio de Janeiro allege that, in January, Wagner Moraes fixed the death certificate of 28-year-old Raquel Santos in an effort to cover up his failure to ask her if she was on any drugs that might interact badly with the fillers he was injecting into her face.
The police in Brazil claim that the plastic surgeon had no legal right to issue the death certificate, but did so to hide the fact that he forgot to check Santos' medical records to see if she was on any drugs that might interact with the fillers.
The procedure Santos was receiving is carried out by injecting botox into the muscles around the corners of the mouth to get rid of the deep wrinkles that can occur there.
The Brazilian model suffered a massive heart attack only hours after having the fillers injected into her face.
During Santos' funeral, police dramatically halted her burial and confiscated the body in order to perform an autopsy. It was discovered in the post-mortem that Santos regularly injected herself with a horse stimulant called Potenay to enhance her gym workouts.
The stimulant is regularly used by bodybuilders, but can cause dangerously high blood pressure.
"During the investigation, we discovered that he only knew she was using anabolics when hospital staff declared her dead," said police spokesman Mario Jose Lamblet dos Santos of Moraes.
Santos' husband, Gilberto Azevedo, said that before her death she began complaining of difficulty breathing and a rapid heartbeat. By the time she arrived at a hospital, she had gone into cardiac arrest.
"I believe that if she had been in some suitable place to do cosmetic procedure, such as a hospital, she would still be alive," Azevedo said.
Azevedo and friends said that Santos's quest for beauty led to her death and that she had "every aesthetic procedure imaginable" because she was "a slave to vanity."
"She smoked a lot and took many drugs to improve her appearance," he said. "She took medicine before she worked out and also to (help her) sleep. I think that one more doctor's negligence caused her death."
Santos was runner-up in the 2015 Musa do Brasil, one of the country's biggest beauty pageants.
In court, doctor Moraes defended his work saying that Santos' death was caused by her heavy smoking and use of the horse stimulant. Santos' family is reportedly considering legal action against the surgeon as police continue the investigation.