Brazil Poses Major Challenge to US Soccer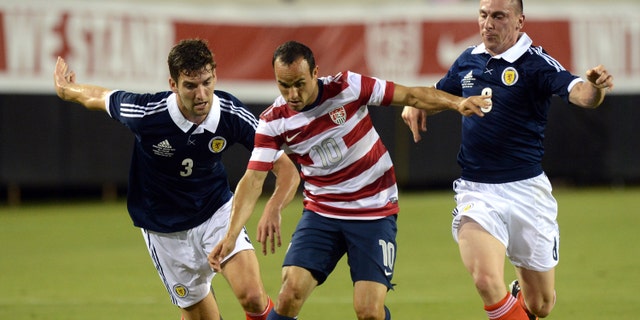 LANDOVER, Md. – The country that brought the world "jogo bonito" — or the beautiful game -- will pose a major challenge for the U.S. soccer team. While not as significant as a pair of World Cup qualifiers next month, it is a test for the Americans on how far they've come since Jurgen Klinsmann took over as coach last summer.
"We understand what Brazil presents. We're going to go for it," Landon Donovan said Tuesday, a day before the Americans play the Seleção in the second of five matches for the U.S. in an 18-day span.
A record five-time World Cup champion, Brazil has a youthful roster headed by Neymar, the 20-year-old Santos star coveted by many of Europe's top clubs. Looking ahead to the Olympics, which limits teams to mostly players under 23, coach Mano Menezes has a roster that includes AC Milan's Alexandre Pato and Thiago Silva, Tottenham's Sandro, Real Madrid's Marcelo, Manchester United's Rafael and Porto's Hulk.
They're good in every part of the game. Defensively they're good. they press well. Everybody knows what they can do on the offensive side of the ball.
"It's obviously a great benchmark to see how we can deal with a system like that," Klinsmann said. "They have their freely flowing game."
After taking a White House tour, the Americans worked out at FedEx Field, where a crowd of more than 56,000 is expected for the match.
Clint Dempsey has recovered from a groin injury that caused him to miss Fulham's season finale on May 13 and could play part of the way and pair with Donovan for the first time under Klinsmann, the former German national team star and coach who replaced Bob Bradley last July 29.
'Obviously, I'm not 90 minutes fit, but I'm ready to go in whatever capacity," Dempsey said.
Dempsey worked on fitness after training with Jozy Altidore, who joined the team Monday and completed the 23-man roster.
"He was not released by his club AZ Alkmaar before yesterday, which made me very angry, and it put Jozy in a very difficult position because he had a couple weeks off," Klinsmann said. "The guys that came in here on the 15th of May, they trained sometimes three sessions a day, and he's behind them."
Brazil is 15-1 against the Americans and has outscored them 31-10. The U.S. victory came in the semifinals of the 1998 CONCACAF Gold Cup.
Three years ago, the U.S. took a two-goal lead in the first half of the FIFA Confederations Cup final in South Africa only to lose 3-2. The defeat lingers in the memories of the Americans.
"It still hurts to be so close to winning in a major final," goalkeeper Tim Howard said. "But that's life, that's football. And it just shows you how potent they can be."
Brazil is preparing for the Olympics, a tournament it has never won, one that limits teams to players under 23 except for three wild cards. Brazil then hosts the World Cup for the first time in 64 years in 2014, meaning it gets an automatic berth and doesn't have to play any qualifiers.
Klinsmann visited Brazil and Menezes for a coaching seminar in December. The Brazilians haven't won the World Cup in a decade, which angers many of their supporters.
"It was really interesting to see the discussion going on in Brazil," Klinsmann said. "They not only want to win the World Cup, they want to win it in style. And at the same time they have to realize that kind of over the last couple years they missed the train, because they're looking at Spain. Spain dictates the tempo in the world of soccer."
Sixth-ranked Brazil opened this stretch last weekend with a 3-1 win over Denmark in Hamburg, Germany, as Hulk scored twice. It has two additional games in the U.S., against Mexico on Sunday at Arlington, Texas, and versus Argentina six days later in East Rutherford, N.J.
"They're good in every part of the game. Defensively they're good. they press well. Everybody knows what they can do on the offensive side of the ball," Donovan said. "So there's a lot of different parts you have to be prepared for."
Klinmann started 1-4-1, which would have brought him under pressure for results in a top soccer nation, but the 29th-ranked Americans have since won four in a row, including a 1-0 victory at Italy.
Brazil hasn't topped the FIFA ranking since just before the 2010 World Cup and has dropped as low as seventh — unacceptable back home. The Brazilians have won eight in a row and are unbeaten in nine since an August loss at Germany.
"We are always trying to win, give more happiness to the Brazilian nation," Marcelo said.
Unusally for nations from different continents, this will be the fourth U.S.-Brazil meeting in less than three years.
"It's an opponent that we know well," Sandro said.
After this, the Americans play Canada on Sunday in Toronto, then open World Cup qualifying against Antigua and Barbuda at Tampa, Fla., on June 8. Their first road qualifier is at Guatemala four days later.
"I wouldn't get caught up in any one result," Donovan said. "It's a long process. and the goal at the end of all this is to qualify for the World Cup. So if we win a few games along the way here, we lose a few games, it's not important. The goal is to make sure we qualify for the World Cup."
Based on reporting by The Associated Press.
Follow us on twitter.com/foxnewslatino
Like us at facebook.com/foxnewslatino