Body language: Photo of Merkel, Trump captures G-7 tensions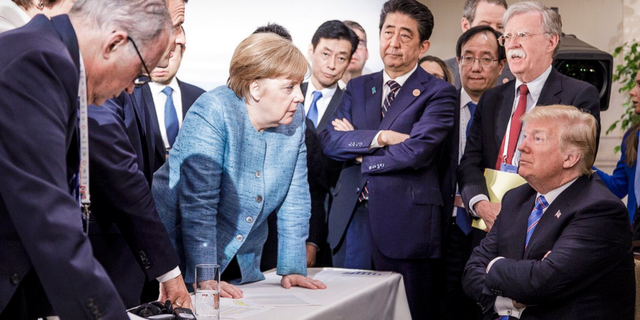 FRANKFURT, Germany – One photo is telling it all about tensions at the G-7 summit.
A picture of U.S. President Donald Trump and German Chancellor Angela Merkel displaying less-than-friendly body language is turning out to be a defining image of the contentious meeting of the Group of Seven leaders of the world's advanced economies.
The picture, snapped by German government photographer Jesco Denzel, shows a standing Merkel with hands firmly planted on a table staring down at Trump, who is seated with his arms folded and eyes glaring. Japanese Prime Minister Shinzo Abe stands next to Trump as French President Emmanuel Macron leans in next to Merkel.
The photo was tweeted by Merkel spokesman Steffen Seibert. Shortly afterward, the White House issued a photo showing Trump speaking as Merkel, Abe and Canadian Prime Minister Justin Trudeau listen.