Body found in burned-out car may be Greek ambassador who vanished in Rio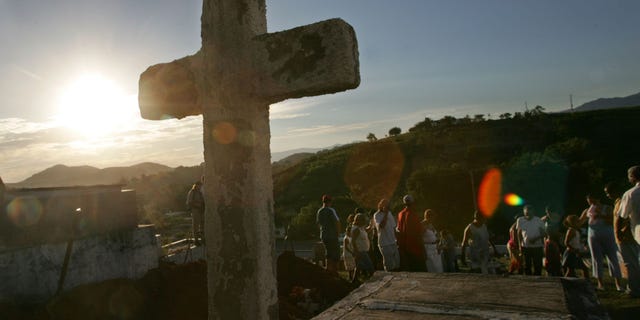 The discovery of a body in a burned-out car in Rio de Janeiro has sparked fears that it might be that of the Greek ambassador to Brazil, it has been reported.
RIO MAYOR-ELECT PROPOSES TOURIST TAX TO REIMBURSE VISITORS WHO GET MUGGED
Kyriakos Amiridis, 59, had been missing for three days since mysteriously vanishing without a trace on Monday.
The diplomat reportedly phoned his wife, who was at a local shopping center, at around 8pm telling her he was going out, but didn't say where he was heading.
She called police on Wednesday after being unable to contact her husband for two days.
UBER LOOKS TO DOMINATE IN BRAZIL WHILE TAXIS PUSH TO BAN APP
A Ford Ka Sedan car, believed to be rented by Amiridis, was found underneath an overpass at the entrance to the Nova Iguacu district of Rio yesterday afternoon.
A charred body found inside is undergoing DNA testing to find out if it is the missing ambassador.
A police spokesperson would not say whether the license plate of the car was from the rental vehicle the ambassador was using.
But a source in the Greek foreign ministry confirmed that the car was indeed the one used by Amiridis.
"It's the car that the ambassador had rented," the source told AFP.
Rio de Janeiro's homicide department is now investigating the disappearance.
Police chief Evaristo Magalhaes said nothing has been ruled out but that a kidnap is thought unlikely as no attempt was made to contact Amiridis' family.
He added that investigators had already collected CCTV images, and solicited information about the diplomat's credit cards and mobile phone activity.
Amiridis had been on vacation with his family in Rio de Janeiro's northern Nova Iguacu area since December 21.
He was due to fly back to Brasilia on January 9, a Greek embassy official told AFP.
But he vanished on Monday night after going out of the apartment they were renting and taking the car, according to Brazilian media.
One official reportedly said he last spoke to the ambassador on Monday evening, but could not be sure it was him responding to messages.
Another told the Folha "he may just be out of touch" and added they are "waiting for Brazilian authorities".
Amiridis was named ambassador this year and had previously served as Greece's consul general in Rio from 2001 to 2004.
He also served as Greece's ambassador to Libya from 2012 to 2016.
The Nova Iguacu area of Rio, where he and his wife were passing the Christmas holidays, is notorious for crime and its high murder rate.
In the runup to Brazil's municipal elections, at least 14 politicians were murdered in the region in nine months, blamed on death squads operating in the region.
In April this year Brazilian senator Aureo Riberito was kidnapped by four armed men in the same region and later released.
In October the well-known president of the Belford Roxo samba school, Reginaldo Gomes, was also kidnapped by four armed men on a street in Nova Iguacu.
The gang also later released him after stealing money and his car.