Bodies Of Two American Mountaineers Found In Ravine On Mt. Aconcagua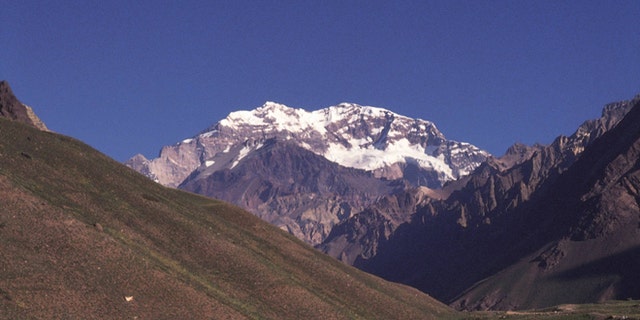 The bodies of two American mountaineers were discovered at the bottom of a 650-foot ravine by an Argentinean helicopter, days after the pair went missing during an attempt to summit the highest peak in the Americas.
28-year year old Francis Keenan of Pennsylvania and 22-year old Jarod Von Rueden of Wisconsin were ascending the 22,837-foot Mt. Aconcagua – the highest peak in both the Western and Southern Hemispheres and one of the famed Seven Summits – when Von Rueden sent out a distress call from his radio on New Year's Eve.
Fierce storms delayed search-and-rescue efforts, but on Sunday a search helicopter was able to spot two bodies on the glacial upper slopes of the peak on a dangerous route known as the Polish Glacier.
"The (two) bodies were spotted from a helicopter at about [20,000 feet] on an access route that is not often used" and rarely so by advanced climbers, Argentinean police officer Antonio Ibaceta told Agence France-Presse.
The two climbers begun their ascent Dec. 20 and were accompanied by a third American, 19-year-old Josep Foncen. The younger climber abandoned his summit attempt and let the two other continue on.
Argentinean Natural Resources Director Daniel Gómez told the newspaper Clarín that the two climbers most likely had been on their summit push for around 16 hours and were probably facing terrible weather conditions. He said that the the cause of their deaths was likely due to a high fall.
"We think they may have been exhausted and have tried to come back," Gómez told Argentina's La Nación newspaper.
The climbers, after leaving the Polish Glacier, probably attempted to rappel directly into camps that are lower down the mountain by placing a rope that allowed them to descend about 200 feet to a zone of brittle rocks, officials speculated.
Search-and-rescue teams are currently scanning the mountains for a good area that would allow teams to enter the ravine and extract the bodies.
While Aconcagua is not generally considered to be difficult in terms of technical climbing, extreme changes in weather and cold make the ascent dangerous, with five deaths being recorded in January 2009 alone.
There are about 700 climbers on Aconcagua now attempting to climb to the summit of the mountain. About 43 percent take the Polish Glacier route, while 54 percent take the so-called normal route and 3 percent take other, less known paths.
Follow us on twitter.com/foxnewslatino
Like us at facebook.com/foxnewslatino