Blast rocks gas terminal in Egypt's Sinai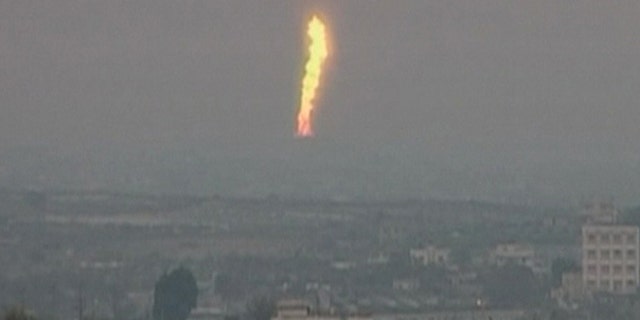 EL-ARISH, Egypt – An explosion rocked a gas terminal in Egypt's northern Sinai Peninsula on Saturday, setting off a massive fire that was contained by shutting off the flow of gas to neighboring Jordan and Israel, officials and witnesses said.
Egypt's natural gas company said the fire was caused by a gas leak. However, a local security official said an explosive device was detonated inside the terminal, and the regional governor, Abdel Wahab Mabrouk, said he suspected sabotage.
The blast and fire at the gas terminal in the Sinai town of El-Arish did not cause casualties. The explosion sent a pillar of flames leaping into the sky, but was a safe distance from the nearest homes, said Mabrouk.
The blast came as a popular uprising engulfed Egypt, where anti-government protesters have been demanding the ouster of longtime President Hosni Mubarak for the past two weeks. The Sinai Peninsula, home to Bedouin tribesmen, has been the scene of clashes between residents and security forces. It borders both Israel and the Gaza Strip, ruled by the Islamic militant Hamas.
The terminal is part of a pipeline system that transports gas from Egypt's Port Said on the Mediterranean Sea to Israel, Syria and Jordan.
The head of Egypt's natural gas company, Magdy Toufik, said in a statement that the fire broke out in the terminal "as a result of a small amount of gas leaking."
However, a senior security official said an explosive device was detonated in the terminal. The official spoke on condition of anonymity because he was not authorized to discuss the issue with reporters.
Mabrouk said the fire was brought under control by mid-morning, after valves controlling the flow of gas were closed.
Israeli Prime Minister Benjamin Netanyahu's office said that it's not clear whether damage was caused to the pipeline leading to Israel. "But as a security precaution, Israel temporarily stopped, by its own initiative, the transfer of gas as procedure dictates," the statement said. Israel has alternative energy sources and is not likely to experience power shortages, the statement said.
The blast also halted the gas supply to Jordan, which depends on Egyptian gas to generate 80 percent of its electricity.
Jordan's National Electric Power Company is resorting to heavy fuel and diesel to keep national power plants running, said the company's director-general, Ghalib Maabrah. He said Jordan has heavy fuel and diesel reserves to generate electricity for three weeks, adding that the shift will cost Jordan $4.2 million a day.
Egyptian authorities expect gas to remain shut off for a week, until repairs are completed, Maabrah said.
The Sinai gas pipelines have come under attack in the past. Bedouin tribesmen attempted to blow up the pipeline last July as tensions intensified between them and the Egyptian government, which they accuse of discrimination and of ignoring their plight.
Egypt has potential natural gas reserves of 62 trillion cubic feet (1.7 trillion cubic meters), the 18th largest in the world.
Egypt began providing Israel with natural gas in February 2008 under a deal by which it will sell Israel 60 billion cubic feet (1.7 billion cubic meters) a year for 15 years.
The deal raised controversy at home, with some in the Egyptian opposition saying the gas was being sold at below-market rates. Others resent Israel's treatment of Palestinians, and say Egypt shouldn't supply energy to Israel.
"The deal (to sell gas) was a blow to the pride of Egyptians and a betrayal," former diplomat Ibrahim Yousri told The Associated Press on Saturday.
Yousri led a high court challenge to try to halt Egypt's sale of gas to Israel. Although the high court ruled in his favor in February 2010, the ruling was widely ignored by the government.
___
Additional reporting by Jamal Halaby in Amman, Jordan; Ian Deitch in Jerusalem; Diaa Hadid and Sarah El Deeb in Cairo; and Tamer Ziara in Rafah, Gaza Strip.
(This version CORRECTS in first paragraph that gas flow was shut of to Israel).)