Blast at South Lebanon Hotel Popular With U.N. Staff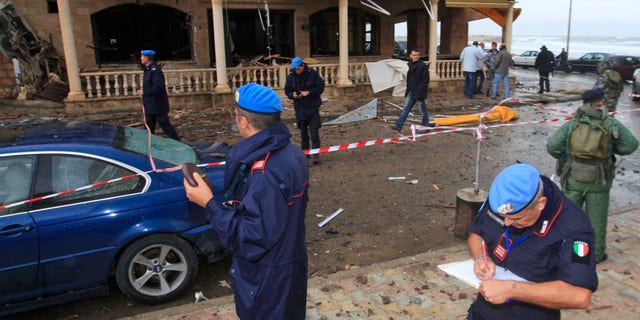 BEIRUT -- A bomb exploded Wednesday at a hotel frequented by U.N. staffers in southern Lebanon, causing damage but no casualties, a Lebanese security official said.
The official said the blast tore through the pub at the Queen Elissa Hotel in the port city of Tyre early in the morning. Rubble littered the pavement outside the hotel, and part of the ground floor was badly damaged by the blast.
Another explosion minutes later damaged a liquor store in the city, also causing no casualties. The official spoke on condition of anonymity in line with regulations.
The official estimated the hotel bomb weighed about 7 pounds, and said a sample had been sent to Beirut to determine the type of explosives used.
Andrea Tenenti, a spokesman for the U.N. peacekeeping force known as UNIFIL, said in a statement that "there are no indications whatsoever that UNIFIL was targeted by the explosion."
He said that two U.N. staff members were in the hotel but were not harmed, and that two U.N. vehicles were damaged. An investigation was under way, he said.
Tyre is a predominantly Muslim city and serving alcohol is common at hotels and restaurants.
There have been several attacks against U.N. peacekeepers in Lebanon in the past, most recently in July, when a roadside bomb blew up next to a U.N. convoy carrying French peacekeepers in southern Lebanon, wounding at least five people.
U.N. peacekeepers have been deployed in southern Lebanon since 1978 to monitor the border with Israel. The force was boosted to almost 12,000 troops after Israel and Hezbollah fought a war in 2006.
Under the U.N. resolution that ended the fighting, the mission is monitoring a zone south of the Litani River where Hezbollah is banned from keeping weapons.