Blackberry Outage Leads to Compensation in Spain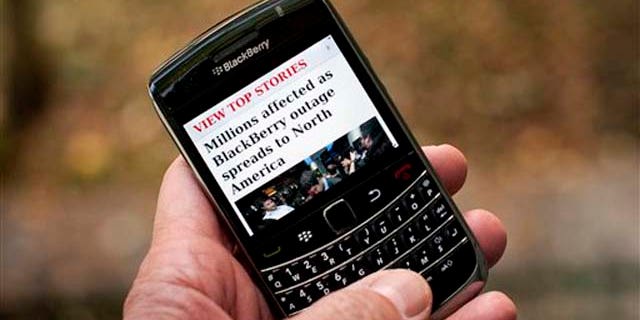 Telefónica, Spain's Blackberry service provider, is compensating customers just as smartphone's manufacturer, Research In Motion, was slogging its way out of an e-mail bug that halted service for users worldwide, according to multiple reports.
The Spanish company said on its Web site that it, in line with Spanish law, it would compensate its customers, Reuters reported. The Spanish Consumer Association FACUA believes that clients will receive up to $2.62 for every 24 hours of lost service, the wire service reported.
Will Draper, an analyst for Espíritu Santo, told the wire service he thinks Telefónica's compensating ways "will be very difficult" for it to work with RIM customers.
"This is a three-day outage," Draper said. "This is 10 percent of your working month, so I'm pretty sure there will be compensation claims and I'm pretty sure they'll try and pass it on to RIM, but my feeling is it will be very difficult to make it stick."
The compensation comes as RIM announced early Thursday that e-mail messages and Internet service had been restored, ending the three-day outage.
Service providers in others parts of the world are considering compensation, too. In Britain, for example, Vodafone is looking into compensation, a spokesman told the wire.
In Johannesburg, meanwhile, Virgin Mobile customers will be compensated for 48 hours, South African financial website MoneyWeb.com reported. The site reports that Cell C, another Blackberry service provider company in the country, will also deduct from normal fees and free text messages.
Both companies apologized for the outage.
"While Cell C had no role in the service disruption, the company wants to ensure customers are compensated for the loss of service as a gesture of goodwill," Cell C told MoneyWeb.com
You can reach Alexandra Gratereaux at: Alexandra.Gratereaux@foxnewslatino.com or via Twitter: @GalexLatino
Follow us on twitter.com/foxnewslatino
Like us at facebook.com/foxnewslatino