Black market money dealer says Brazil president knew of kickback scheme at Petrobras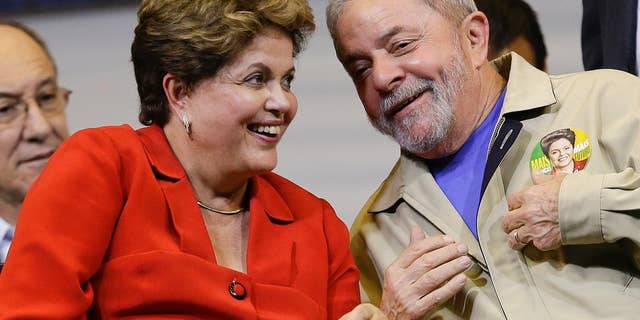 NEWYou can now listen to Fox News articles!
SAO PAULO – A convicted black market money dealer who turned state's evidence told lawmakers on Tuesday that Brazilian President Dilma Rousseff and her predecessor, former President Luiz Inacio Lula da Silva, knew of the sprawling corruption kickback scheme that has engulfed state-run oil company Petrobras.
Alberto Youssef, who has been talking to prosecutors in exchange for less jail time, made his remarks before a congressional panel investigating the alleged scheme.
Without providing any proof, Youssef said Rousseff had knowledge of the scheme when she chaired the board at Petrobras between 2003 and 2010. Much of the alleged corruption took place at that time.
Asked if he thought Silva as president knew and okayed the kickback scheme, Youssef said "that's correct."
Both Rousseff and Silva have denied knowing about the scheme.
Also questioned by the panel was Paulo Roberto Costa, a former director of Petrobras' downstream operations. Costa, said he could not confirm Youssef's remarks.
Costa has told prosecutors under a plea bargain agreement that he accepted bribes from construction firms and other contractors to win bids from the oil producer.
Prosecutors have said the scheme involved at least $800 million in bribes and other illegal funds. Some of that money was allegedly funneled back to the ruling Workers' Party and its allies' campaign coffers. It also allegedly included the payment of bribes to Petrobras executives in return for inflated contracts.
Petrobras is Brazil's biggest company and is in charge of tapping big offshore oil fields that leaders hope will propel the country to developed world status.