Birds found 'decorated' with Christmas trinkets around necks, wings in New Zealand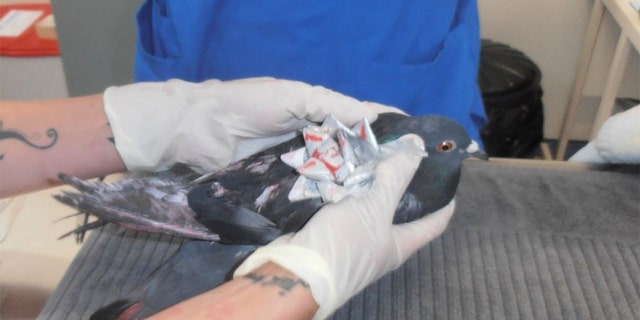 Animal rescuers in New Zealand are investigating as dozens of birds have been found — some reportedly dead, some alive — "decorated" with Christmas decorations.
Sparrows and pigeons were discovered by Society for the Prevention of Cruelty to Animals (SPCA) inspectors with "trinkets" tied around their necks and wings, the New Zealand Herald reported Wednesday.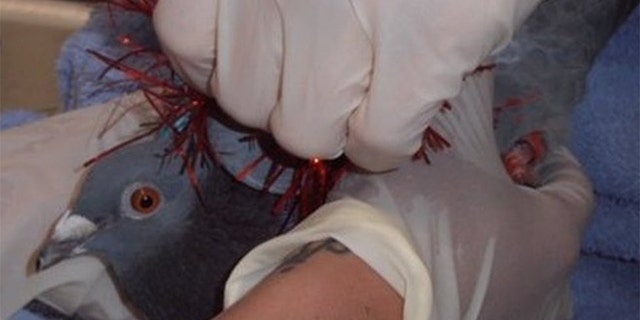 Seven pigeons donning tinsel and festive items were found Tuesday at a property in Kilbirnie, a suburb of Wellington. Sparrows decorated with similar ornaments were recently found in the area starving to death because the decor prevented them from eating or drinking, according to the news outlet.
WARNING: GRAPHIC IMAGE BELOW
The pigeons, who SPCA manager Ros Alsford said were in "okay health," were transported to a veterinary hospital and had the odd decor removed. Alsford said while the property remains under investigation, the birds were brought back because they were nesting eggs.
"Many [of the birds] to pry the foreign objects off their bodies with their beaks and feet, becoming further entangled and preventing them from eating, drinking and flying," SPCA spokesperson Paige Janssen told the BBC of the situation. "With others, the decorations are wrapped so tightly it completely cuts off their blood circulation."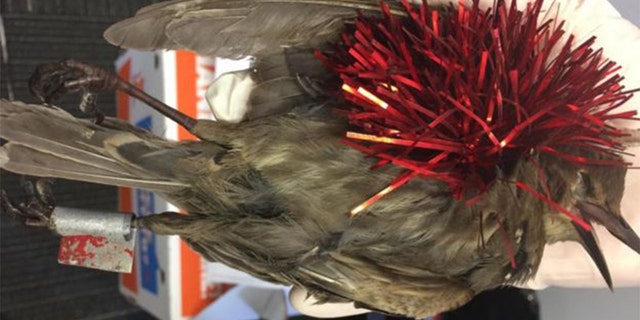 "Those that do survive and arrive at our center are always in a very bad state, and are so malnourished and distressed that we have had to humanely euthanize them," Janssen said.
Photos of the pigeons appear to show the birds decked out in festive Christmas colors and adornments. Alsford said the birds were not only decorated but "have actually been painted the same color as the trinkets."
ARIZONA BIRD RESCUE SEARCHING FOR OWNER OF MYSTERIOUS BEDAZZLED PIGEON
"One pigeon had quite bright red Christmas tinsel wrapped around its wings and then the top of its head had been painted with red paint as well as its wings had been tipped with red paint," he told the Herald. "It's not just a random person wrapping these trinkets around these birds because the trinkets are very tight and very carefully planned."
CLICK HERE TO GET THE FOX NEWS APP
The SPCA said the discovered birds are part of a recent spike, but similar incidents have been reported as far back as 2015. Investigators said there are "still a lot of birds out there that are still decorated" and urged anyone who spots them to report them to the animal welfare group.