Bereaved parents of slain US soldier attend trial in Jordan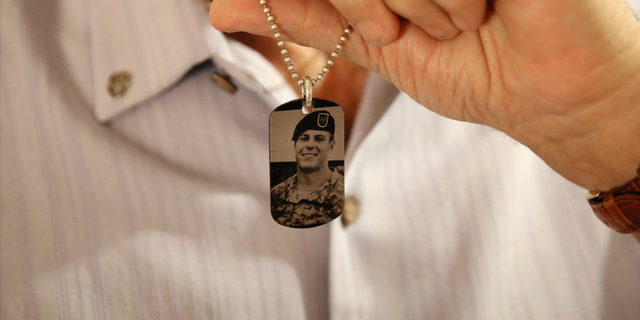 AMMAN, Jordan – The father of one of the three U.S. military trainers shot dead at a Jordanian air base in November said Thursday he will honor any decision made by the military court trying the alleged killer, but that no punishment can compensate for the loss of his son.
Charles and Cynthia Lewellen, the parents of 27-year-old Staff Sgt. Matthew C. Lewellen of Kirksville, Missouri, attended court hearings this week, sitting meters away from the defendant, who stood quietly in a cage in the courtroom. The parents will stay in Jordan until the verdict.
"It doesn't faze me to see him behind the cage," said Charles Lewellen. "I look at him as a guy that took my son and his life from us ... someone that took something from us that we will never get back. I can't say I'm angry. I just see a future that was taken away by his hands."
Lewellen was killed instantly when three vehicles carrying U.S. troops came under fire at the gate of an air base in southern Jordan in November. The other victims were 30-year-old Staff Sgt. Kevin J. McEnroe of Tucson, Arizona, and 27-year-old Staff Sgt. James F. Moriarty of Kerrville, Texas.
According to previous descriptions of a security camera video by Moriarty's father, the first vehicle in a four-car convoy passed through an outer and an inner gate, entering the base safely. Three more vehicles carrying U.S. troops stood between the outer and inner gate when Jordanian gate guards said they heard a low sound, possibly a pistol shot, from the direction of the convoy.
The defendant, 1st Sgt. Marik al-Tuwayha, said in his testimony this week that he opened fire after hearing a pistol shot coming from the direction of the American convoy, saying he feared his colleagues were coming under attack. He has pleaded "not guilty."
Other witnesses have also said they heard a pistol shot. Some of the gate guards said they held their fire because they couldn't identify the exact source of the sound.
The defendant has said he initially opened fire from inside a guard house where he was at the time, believing he was complying with rules of engagement. He has said he had "no intention of killing anyone" and felt no resentment toward Americans.
The security camera footage shown to the bereaved parents by U.S. law enforcement officials did not have sound. However, Lewellen argued Thursday that the video did not suggest a pistol shot had been heard because a gate guard did not react until the Americans came under fire.
"I still don't think we know what his (the defendant's) intentions were that day. I don't buy the fact that it was a loud sound. I don't think it holds water," said Lewellen. "Did he just go crazy for a moment? Was there this so-called sound? I don't know. And I guess we will never know."
The next hearing is set for Monday. The prosecutor is expected to make closing statements.
If convicted of murder, al-Tuwayha faces life in prison.