Benjamin Netanyahu likely to win Israeli prime minister election after opposition party concedes
NEWYou can now listen to Fox News articles!
Israeli Prime Minister Benjamin Netanyahu appears more likely than ever to be headed to a fifth term Wednesday after the party of his top rival conceded defeat in the country's parliamentary elections.
The Blue and White party, headed by former army chief of staff Benny Gantz, drew even with Netanyahu's Likud party, but the incumbent prime minister is poised to form a government with his larger bloc of allies.
Gantz said his party "founded a true alternative rule to Netanyahu," but its No. 2 figure, Yair Lapid, told reporters Wednesday that it "did not win in this round".
Netanyahu, meanwhile, says President Trump has called to congratulate him on his election win from Air Force One.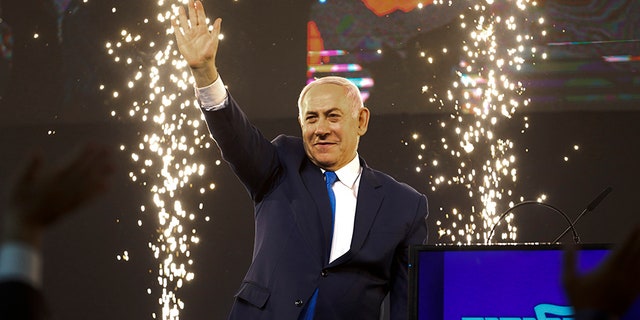 Netanyahu's office issued a statement Wednesday saying Trump "warmly congratulated" Netanyahu, who thanked the president for his "great support for Israel," including the White House's recognition of Jerusalem as Israel's capital and Israeli sovereignty over the Golan Heights.
Netanyahu campaigned on his foreign policy victories and close relations with world leaders — Trump in particular.
Israel's president also said Wednesday that his talks with political parties are to begin next week, in the run-up to picking the leader he thinks has the best chance of forming a stable governing coalition.
Reuven Rivlin added that, for the first time, his meetings with party leaders would be broadcast on live television "in the name of transparency."
Although the president acts largely in a ceremonial capacity, he is charged with choosing a candidate for prime minister after hearing recommendations from the heads of all factions, according to the Associated Press. Rivlin will then task the leading candidate with forming a government within 42 days.
CLICK HERE TO GET THE FOX NEWS APP
Prime Minister Benjamin Netanyahu appears poised to be the president's choice.
This is a developing story. Check back for updates.
The Associated Press contributed to this report.