Bangladesh police arrest suspect in attack on publisher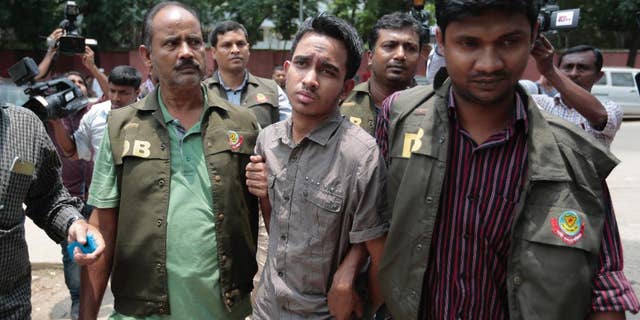 NEWYou can now listen to Fox News articles!
DHAKA, Bangladesh – Police in Bangladesh's capital say they have arrested a suspected member of a banned Islamist group accused of attacking and killing atheist writers.
Authorities produced suspect Mohammed Sumon Hossain in court Thursday, after arresting him Wednesday night near Dhaka's airport.
Police counter-terrorism chief Monirul Islam told reporters that Hossain was a member of the banned Ansarullah Bangla Team.
He said Hossain was charged with taking part in an attack in October on publisher Ahmed Rashid Tutul, who worked on books by a prominent atheist writer who was killed in a separate attack.
Tutul survived the attack in his office in Dhaka's Lalmatia area, in which two of his friends were also seriously injured. Tutul later received asylum in Norway.