Australian town left devastated after beloved 15ft, 80-year-old crocodile is found dead
The death of a beloved crocodile has left an Australian town reeling, with local residents organizing a memorial day for the 15-foot reptile who became a tourist attraction.
A local fisherman, Ryan Moody, found the 80-year-old crocodile, named Bismarck, dead in Cardwell's Meunga Creek last week, uploading the discovery on social media.
"Well Cardwell say goodbye to one of your biggest tourist attractions," Moody said in the video. "This croc was never a threat to humans."
HOW DID THE MASSIVE 'SALTY' CROCODILE CAPTURED IN AUSTRALIA GET SO BIG?
"Amazing how humans can just make situations become more dangerous through acts of pure stupidity," he added. "I wonder if he'd like it if I came round and jumped on his head for an hour with my fists. Probably not."
Authorities have appealed to the public for more information about the death of the crocodile amid reports the creature was shot in the head, with the Queensland Department of Environment and Science investigating the matter, according to the Washington Post.
SCIENTIST GRABBED, KILLED BY 17-FOOT CROCODILE SHE WAS FEEDING
Moody himself suggested that the death of the croc wasn't an accident, though the authorities said they cannot yet determine the exact cause of death.
"Old Bismarck has received a couple of lead injections to the back of the head from some oxygen stealing piece of s--t," he said on social media.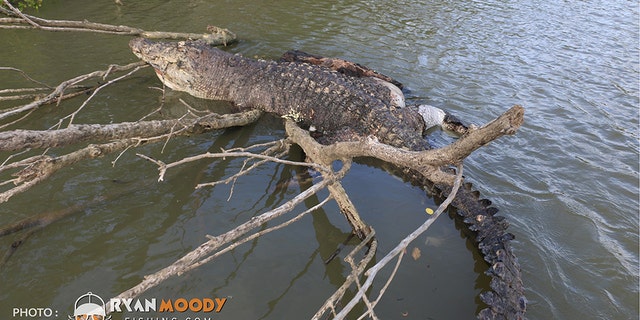 Cardwell's residents, meanwhile, are set to hold a "memorial day" for Bismarck. A public service will also be held a future date, ABC reported.
CLICK HERE TO GET THE FOX NEWS APP
"We saw Bismarck as part of our community, he was such a gentle soul as far as crocodiles can go," Cardwell resident Thea Ormonde told the outlet.
"We want to remember the gentle giant because he never caused any problems for anyone."