Australian prime minister faces challenge from within own party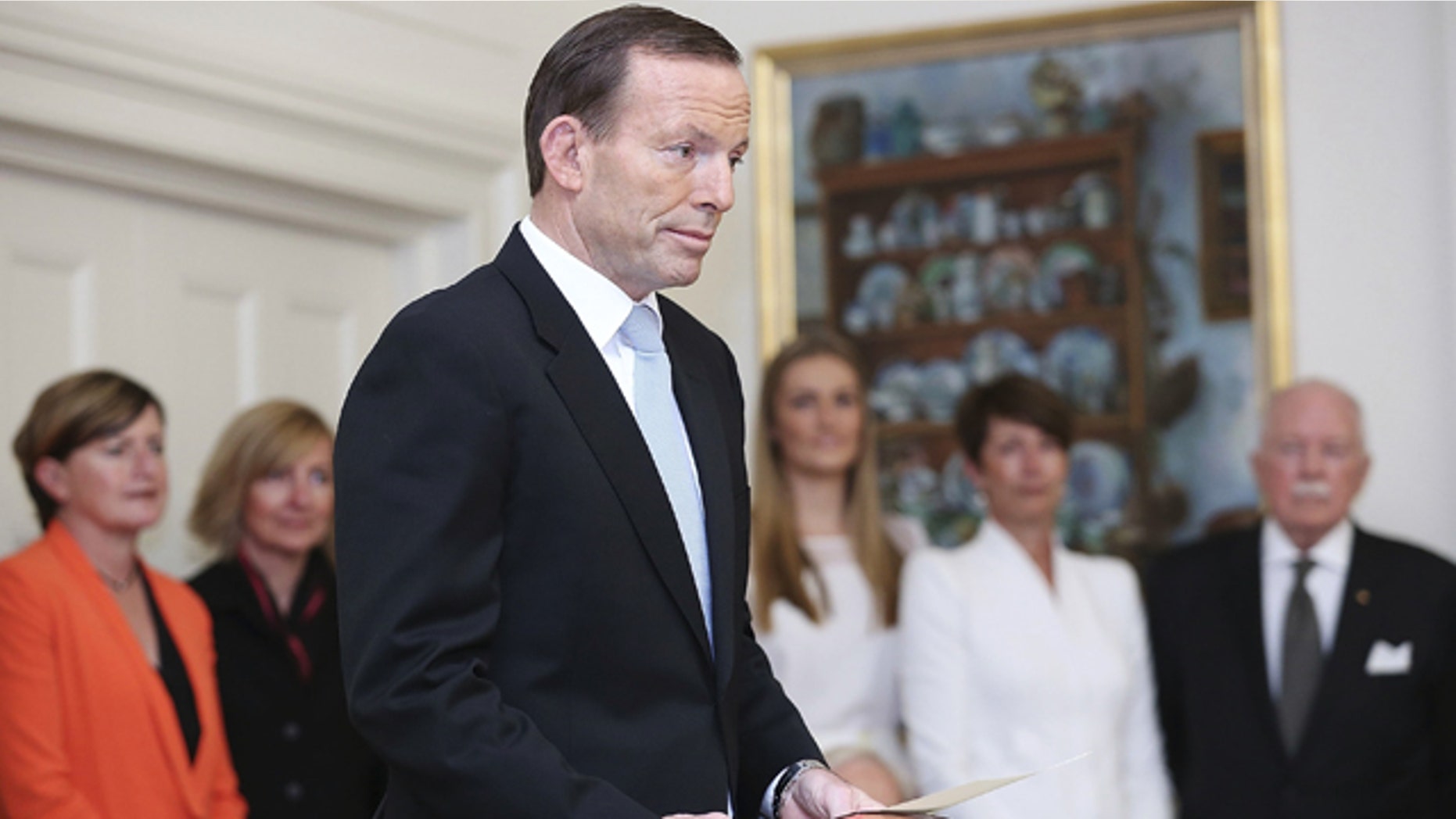 CANBERRA, Australia – Australia's embattled Prime Minister Tony Abbott said Friday that he and his deputy will urge the ruling party to reject calls for a leadership ballot next week that could potentially oust them in a bid to turn around the government's dismal opinion polling.
Halfway through its first three-year term, appearances of a united conservative government have been shattered in recent weeks with public dislike for Abbott blamed in part for big swings against conservative governments at elections in Victoria and Queensland states.
The revolt within the ruling Liberal Party ranks was brought to a head when Abbott was widely criticized for making Queen Elizabeth II's husband, Prince Philip, an Australian knight on Australia's national day last month.
The challenge to Abbott's leadership from by a growing band of disgruntled lawmakers has raised the prospect of Communications Minister Malcolm Turnbull becoming prime minister next week. Turnbull lost the party leadership to the more conservative Abbott by a single vote in a ballot in 2009 while the Liberals were in opposition.
Low-profile Liberal lawmaker Luke Simpkins brought the leadership dispute to a head with an email to his colleagues saying will move a motion at a party meeting Tuesday calling for Abbott to declare that his job and that of his deputy Julie Bishop are open to a ballot of 102 government lawmakers.
Fellow lawmaker Don Randal agreed to second the motion.
Abbott said he and Bishop, the foreign minister, would urge the meeting to reject the motion. He said Australians voted out the chaotic and divided center-left Labor Party government in 2013 because it had changed its prime minister twice in four years in a series of leadership challenges.
"They are perfectly entitled to call for this, but the next point to make is that they are asking the party room to vote out the people that the electorate voted in in September 2013," Abbott told reporters.
"We are not the Labor Party and we are not going to repeat the chaos and the instability of the Labor years," he added.
If the motion is passed, it is not yet clear whether any lawmaker will be nominated to run against Abbott or his deputy.
Turnbull is touted as the most likely potential replacement for Abbott. He had yet to state his position.
Simpkin said he expected Turnbull would be one of a number of leadership contenders.
However the former merchant banker is not popular with the Liberals' coalition partners, the Nationals party.
Turnbull lost his party leadership over his support for an Australian emissions trading scheme proposed by the Labor government. Abbott opposes making polluters pay to curb greenhouse gas emissions. His government last year abolished Australia's carbon tax which had been introduced by Labor.
While the Nationals play no part in choosing the Liberal Party's leader, they will demand that Turnbull does not pursue carbon pricing or legalizing gay marriage if he is elected, The Australian newspaper reported.
A number of ministers agree with Abbott that his support within the government should not be put to a vote.
"It's totally unnecessary and it will make us look a bit of a circus, frankly," Trade Minister Andrew Robb said.
"We saw, from the Labor Party when they were in Government, it turn out like a very bad horror movie," Assistant Treasurer Josh Frydenberg said. "I just don't want to buy another ticket to such a horror movie."
Colleague Sharman Stone said earlier Friday that the growing leadership crisis needed to be resolved next week when parliament sits for the first time this year.