Australia vows investigation after 2,400 sheep die aboard 'death ship'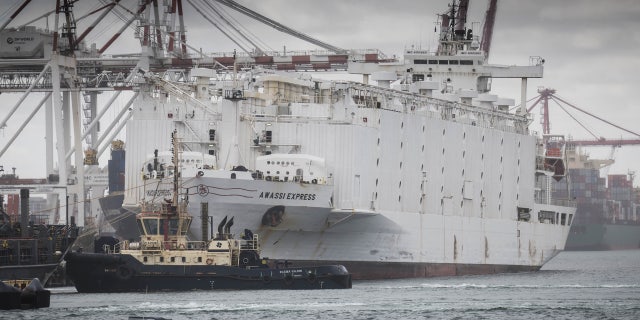 The deaths of 2,400 sheep on an export ship has led the Australian government on Monday to vow an investigation into the alleged horrid conditions aboard the vessel after a video surfaced.
The New York Times reported that the video was taken in August 2017 and showed on Nine Network's 60 Minutes program. David Littleproud, the country's minister of agriculture, told the paper that he was "shocked and gutted" by the video.
The program has aired whistleblower video footage that showed distressed sheep struggling to breathe and dead animals being thrown overboard. Some of the animals died in their own feces, The Times' report said.
The sheep died from heat stress on the MV Awassi Express, a ship used by Western Australia-based Emanuel Exports, during a voyage between Australia and Qatar.
Australian Ethical Investment, a fund manager that specializes in environmental and socially responsible investments, told The Associated Press that the Emanuel Exports case is not the only instance of cruelty exposed in live exporting.
"We've got thriving export markets for our processed agricultural products already - we don't need to export live animals," Dr. Stuart Palmer, a member of the group, said on Monday.
Palmer said unless regulators are on live export vessels to ensure compliance with animal welfare laws, it is impossible to ensure that regulations are met.
He said the live export trade signals that Australia will sell anything to make money and this damaged Australia's reputation for selling high-quality, safe products and potentially jeopardized all export industries.
Farmers lobby group WAFarmers condemned the circumstances that led to the sheep deaths on the MV Awassi Express but said the export of live animals is critically important to Western Australia's farming industry.
WAFarmers livestock president David Slade said any farmer or grazer would be sickened by the MV Awassi Express footage, and there is strong industry support for ensuring that animal welfare standards are maintained.
Josh Wilson, a member of the country's Labor Party, told The Times that there is no supervision on these "death ships," and blamed the Liberal Party for the regulation.
"I wouldn't be surprised if the only serious change the exporter has made since this incident is to ban all staff from having smartphones on board," he said.
The Associated Press contributed to this report