At least 56 dead after Russian fishing trawler sinks with 132 on board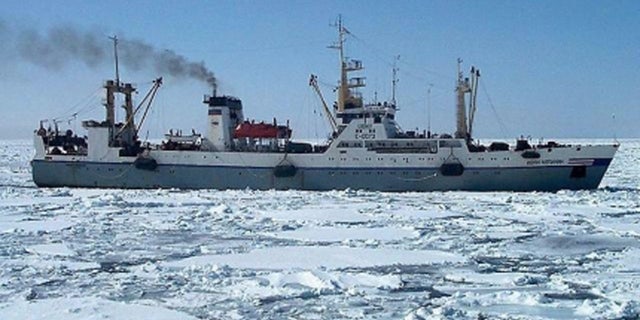 At least 56 people were killed early Thursday when a Russian fishing trawler carrying an international crew of 132 sank in the Sea of Okhotsk off the Kamchatka Peninsula in the Russian Far East.
Rescue officials told the Associated Press that 63 crew members of the Dalny Vostok had been saved and the fate of another 15 was unknown. Russia's emergency services said in a statement on their website that more than 26 fishing boats were in the area of the sinking to rescue crew members and recover bodies. Approximately 1,300 people were believed to be involved in the rescue operation.
Viktor Klepikov, coordinating captain of the Petropavlovsk-Kamchatsky maritime rescue coordination center, told Reuters that the sea's temperature at the time of the sinking was near freezing.
No cause for the sinking was immediately given, but investigators said the ship may have collided with drifting ice. It did not send a distress signal prior to the sinking.
Interfax quoted Vasily Sokolov, deputy chief of the Russian Fisheries Agency, denying reports that an overload may have caused the boat to sink.
The Investigative Committee said in a statement that it is considering all theories but it is likely that the trawler hit "an object" floating in the sea.
The accident occurred at about 4 a.m. local time (2 p.m. E.T. on Wednesday). The trawler sent no distress signals prior to the sinking, Russia's Interfax news agency said.
The fishing boats have recovered 56 bodies so far. The Interfax news agency quoted a local emergency representative as saying two of the bodies were found Thursday evening — one in a lifeboat 65 miles away and another in the water nearby.
The Russian Emergencies Ministry sent an Mi-8 helicopter with rescuers and doctors aboard to deliver medical assistance and transport rescued crew members to hospitals in the city of Magadan, the ministry said on its website. It also set up a telephone hotline for families of the crew.
Of the 132 crew members, 78 are from Russia, 42 from Myanmar and the rest from Latvia, Ukraine and Vanuatu.
The Associated Press contributed to this report.