At least 51 dead in outbreak of Iraq violence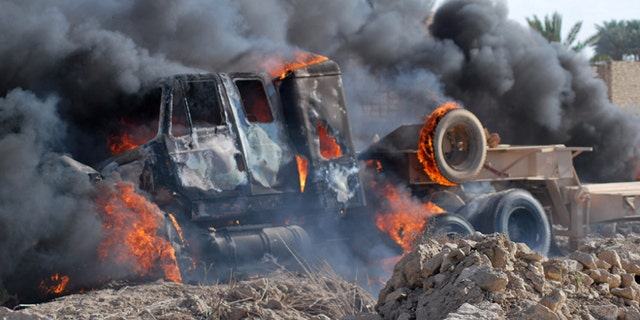 BAGHDAD – Clashes erupted Wednesday between the Iraqi army and armed Sunni tribesmen who sealed off two central Iraqi towns, leaving 38 dead, just a day after a bloody incident involving soldiers and protesters set off fighting that killed 56 people.
Other violence Wednesday killed 13.
The unrest is heightening Sunni-Shiite tensions and raising fears that the country could be headed toward a new round of all-out sectarian violence.
Wednesday's fighting broke out after tribesmen blocked roads leading to the Sunni town of Qara Tappah, about 120 kilometers (75 miles) northeast of Baghdad.
Iraqi troops arrived to try to clear the city. Fierce clashes erupted, and helicopters fired at the gunmen. Police said 15 gunmen and seven soldiers were killed.
Also, Iraqi soldiers clashed with gunmen over the control of the Sunni town of Suleiman Beg in Salahuddin province. Police and hospital officials said four soldiers and 12 others, including some gunmen, were killed.
Suleiman Beg is about 150 kilometers (90 miles) north of Baghdad.
In other violence, three gunmen were killed when they attacked a security checkpoint near the former al-Qaida stronghold of Mosul, about 360 kilometers (225 miles) northwest of Baghdad.
Later, a car bomb struck a police patrol north of Baghdad, killing a policeman and two civilians, according to police.
After sunset, a car bomb near a bus stop in Baghdad's mostly Shiite neighborhood of Husseiniyah killed seven people and wounded 23 others.
Hospital officials confirmed the casualty figures. All officials spoke on condition of anonymity because they were not authorized to release the information to reporters.
The fighting came a day after security forces stormed a Sunni protest camp in the town of Hawija, sparking deadly clashes and a spate of other attacks, mostly targeting Sunni mosques, that killed at least 56 people.
The Tuesday raid in Hawija drew harsh condemnations from Sunni leaders and foreign diplomats, raising fears that Iraq is being pushed back toward all-out sectarian fighting like the underlying conflicts in the civil war in neighboring Syria.
Human Rights Watch on Wednesday urged Iraqi authorities to ensure that any investigation into the Hawija killings takes into account allegations that security forces used excessive force. The rights group noted that there have been reports that security forces attacked demonstrators without provocation.
Iraq's Defense Ministry said it entered the protest area to try to make arrests over an attack on a nearby checkpoint several days earlier, and its forces came under heavy fire from several types of weapons, as well as snipers.
Tuesday's bloodshed followed four months of largely peaceful protests staged by Iraq's Sunni minority against the Shiite-led government.
Iraqi Sunnis say they face discrimination, particularly in the application of a tough anti-terrorism law that they believe unfairly targets them. The government frequently carries out arrests in Sunni areas on charges of al-Qaida or ties to the deposed Baathist regime of dictator Saddam Hussein.