At Least 40 Killed in Mexico in 24 Hours in Suspected Drug Cartel Attacks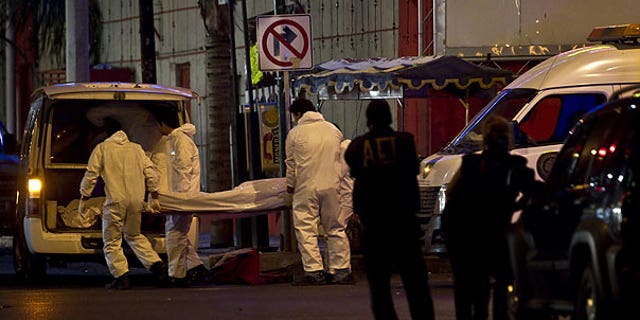 MEXICO CITY – Mexican officials blamed turf wars between some of the country's most brutal drug cartels for a wave of violence across the nation that killed more than 40 people in three attacks, including 21 people massacred in a night club in the northern business capital of Monterrey, The Wall Street Journal reported Sunday.
The bloodiest attack took place Friday night at the gritty Sabino Gordo bar when gunmen with assault rifles shot down patrons and workers in Monterrey, a business center that became a battleground between the Zetas drug gang and the Gulf Cartel from the neighboring state of Tamaulipas.
That same day, 11 people were found shot to death in Chalco, just outside Mexico City. One person survived the attack. On Saturday, the decapitated bodies of 10 people, including three women, turned up in the northern city of Torreon in the trunk of a vehicle.
The carnage was the latest evidence that despite the capture of many top cartel leaders, Mexico's government was making little headway in its battle against escalating drug violence.
During the last four years, drug-related violence claimed at least 42,000 lives, according to tallies by Mexican newspapers. Most of the dead were killed by warring drug cartels fighting over routes to the U.S. and increasingly-lucrative domestic drug markets.
President Felipe Calderon said on his Twitter account that he "energetically condemned" the attacks in Chalco and Monterrey.
To read more about the cartel violence, see The Wall St. Journal article here.