At Least 33 Killed as Syrian Forces Attack Protesters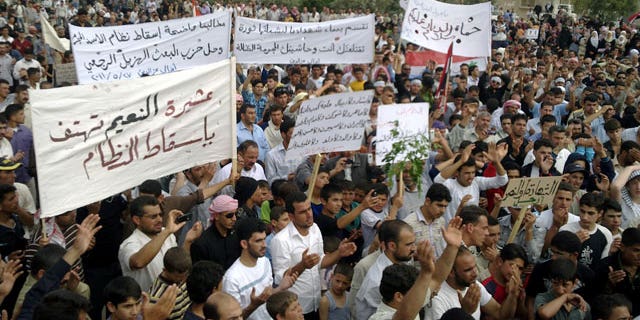 NEWYou can now listen to Fox News articles!
BEIRUT -- A government crackdown on two Syrian towns in the country's center and south killed at least 33 people, including an 11-year-old girl shot dead by troops during a fierce shelling, activists said Wednesday.
Children have become a flashpoint issue in the uprising against the Syrian regime after video emerged of the mutilated and apparently tortured remains of a 13-year-old boy. To blunt growing criticism, the government said Wednesday it had ordered an investigation into the death of the teen who has become a new symbol of the revolt against President Basher Assad.
But the latest child's death, late Tuesday, seemed certain to inflame tensions. Rights groups say more than 1,000 people have been killed in the crackdown nationwide, including 25 children. The opposition already has rejected the government's plan to release political prisoners, once a key demand but now one they say is little more than a ploy to buy time for Assad.
The Local Coordination Committees in Syria, which helps organize and document the country's protests, said 25 people were shot dead on Tuesday in the central town of Rastan, which has seen a major military clampdown in recent days.
In the south, Syrian troops shelled the town of Hirak with tanks and artillery, killing at least eight people on Tuesday and Wednesday, including 11-year-old Malak Munir al-Qaddah, human rights activist Mustafa Osso said. Osso said scores of people were detained after government forces regained control of Hirak.
State-run Syrian TV said Interior Minister Mohammed Shaar ordered an investigation into 13-year-old Hamza al-Khatib's death, which has led to widespread outrage after images of his body with what appeared to be marks of torture and gunshot wounds was shown on YouTube and Al-Jazeera TV.
Al-Jazeera did not air the whole video, but a copy posted by opposition on YouTube showed that the boy's penis was severed and his neck broken. The body, lying on a plastic sheet, appeared pink and the eyes were mottled with bruises and black marks.
Opposition groups blamed security forces for the boy's death.
State-TV aired an interview late Tuesday with Dr. Akram Shaar, who examined al-Khatib's body. He said the cause of the death was shooting, and three bullets had hit the boy's body. He added that what appeared to be bruises and signs of torture were the result of natural decomposition since the boy died on April 29. His body was handed over to his family on May 21, state TV said.
The station also aired a recorded interview with al-Khatib's father who said he was received by Assad this week. The father added that the president considers "Hamza as his son and was touched" by the death.
The uprising has been the most serious challenge to the Assad family's 40-year rule. The government claims the revolt is the work of Islamic extremists and armed gangs.
On Tuesday, Assad issued a general amnesty for prisoners that includes those held for political "crimes."
Syrian state television said the amnesty covered "all members of political movements," including the outlawed Muslim Brotherhood, which led an armed uprising against Assad's father in 1982. Membership in the party is punishable by death.
The amnesty could affect some 10,000 people who Syrian activists say have been rounded up since the protests against the Assad regime broke out in mid-March.
Osso said he expects authorities will begin releasing the nearly 3,000 political prisoners on Wednesday. He said they will include Muslim Brotherhood members, as well as members of the Kurdistan Workers' Party, or PKK, which has been fighting for autonomy from Turkey since 1984.
Also Wednesday, Human Rights Watch said that the systematic killings and torture by Syrian security forces in Daraa since protests began strongly suggest that these qualify as crimes against humanity.
In a 57-page report focusing on violations in Daraa province, the New York-based rights group called for U.N. Security Council sanctions. It said 418 people have been killed in the Daraa province alone since the uprising began.
"For more than two months now, Syrian security forces have been killing and torturing their own people with complete impunity," said Sarah Leah Whitson, Middle East director at Human Rights Watch. "They need to stop -- and if they don't, it is the Security Council's responsibility to make sure that the people responsible face justice."