At least 10 dead, dozens reported trapped after Ukraine coal mine explosion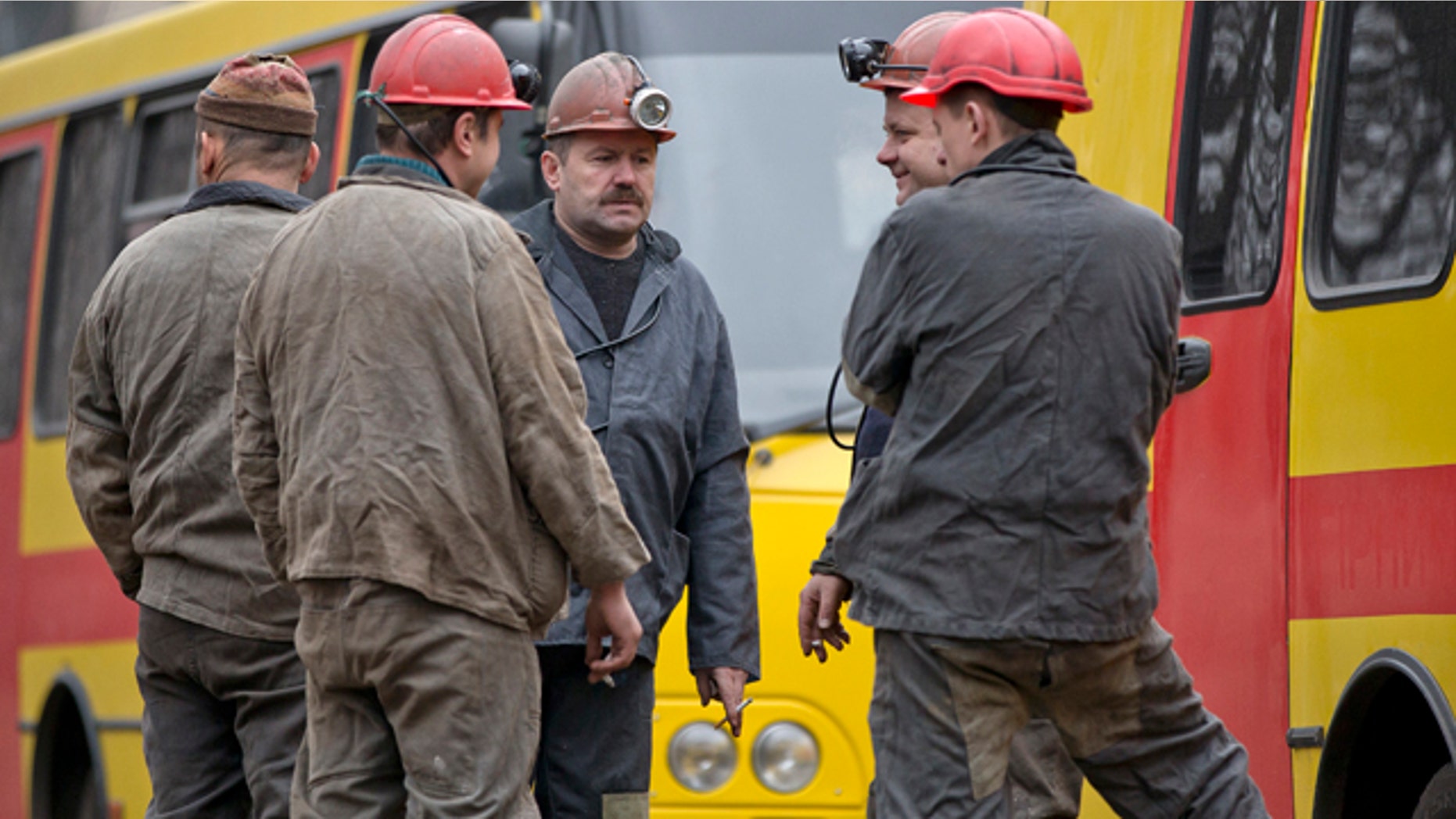 At least 10 workers were killed and dozens more were believed to be trapped following an explosion at a coal mine in war-torn eastern Ukraine Wednesday, officials said.
Contradictory reports on the number of deaths and injuries trickled out throughout the day as officials loyal to either the central government or rebel authorities independently issued statement. The regional governor's office serving Kiev said that as of the late afternoon, 10 people had been confirmed as having been killed and that the fate of another 23 was unknown.
But rebel officials insisted late into the afternoon that only one person had died.
Sky News, citing the head of the local mining safety service, reported that at least 30 people had died and 70 more were trapped in the Zasyadko mine in Donetsk.
"Rescue workers have not yet come to the place of the explosion, they are removing the poisonous gas and then will go down," Vladimir Tsymbalenko told the broadcaster.
Miners arriving for their morning shift, shortly after the accident, have helped in the recovery operation. Reaching the stricken portion of the mine has been complicated, however, as one of the three entrances has been forced closed by artillery shelling that has blighted Donetsk. That entrance is the closest to the area where the trapped miners are located.
Ukrainian Prime Minister Arseniy Yatsenyuk said in Kiev that rebels had prevented a team of 60 Ukrainian rescue workers from reaching the mine to provide assistance. But leading rebel representative Denis Pushilin denied that Ukrainian authorities had offered any help.
"If we truly need assistance, we will turn to Russia," Pushilin was quoted as saying by the Donetsk News Agency.
The rebels said 15 miners were sent to medical centers in Donetsk, and a doctor there, Emil Fistal, was quoted as saying that at least six were in grave condition.
There was no immediate way to reconcile the varying numbers given of miners working, injured, possibly trapped or dead.
Separatist authorities in Donetsk said in a statement that the blast occurred at a depth of more than 1,000 meters and that 230 workers were in the mine at the time. The statement said the explosion was caused by a mixture of gas and air — a common cause of industrial mining accidents. Officials said that at least 157 people had been evacuated from the mine.
One lightly wounded miner being evacuated, who gave his name only as Sergei, told The Associated Press that he saw five bodies being pulled out, but provided no further details.
Another injured miner, 42-year-old Igor Murynin, said at a hospital in Donetsk that he was blown off his feet by the impact of the explosion.
"When I came to, there was dust everywhere. People were groaning," said Murynin, who doctors said had burns over 20 percent of his body.
Murynin said the mine had installed new equipment and that nothing appeared to be out of order.
The region's mines are among the most dangerous in the world, with 300 men dying in an average year due to accidents, according to Sky News.
Rebel authorities said the incident was not caused by shelling. Eastern Ukraine has been wracked by fighting between government forces and Russian-backed rebels for almost a year, during which more than 6,000 people have been killed.
Families of miners seeking information about their loved-ones expressed frustration that they could not get information. Valentina Petrova came looking for her 47-year-old son, Vladimir.
"He was supposed to retire next year. Everyone is angry that they say on TV that 32 people died but nobody tells us anything," she said.
Miners arriving for their morning shift, in the hours after the accident, complained volubly about the long history of safety violations at the Zasyadko mine. One, who gave only his first name, Kostya, said two of his brothers had been injured in earlier blasts at the same mine.
"We work like crazy for peanuts. We want this place to be safe. We want our children to be able to work here," he told The Associated Press.
The mine has a history of deadly accidents, including one in November 2007 that killed 101 workers, and two more in December 2007 that killed 52 miners and then five more workers.
Ninety-nine people were killed in Ukraine's coal mines in 2014, according to mining safety oversight bodies. Thirteen of those deaths were a direct result of the war in the east, where mines have frequently been struck in artillery duels between rebel and Ukrainian government forces.
The Associated Press contributed to this report.