Arizona sheriff to Memorial Day travelers: Pack a gun and beware of cartel hitmen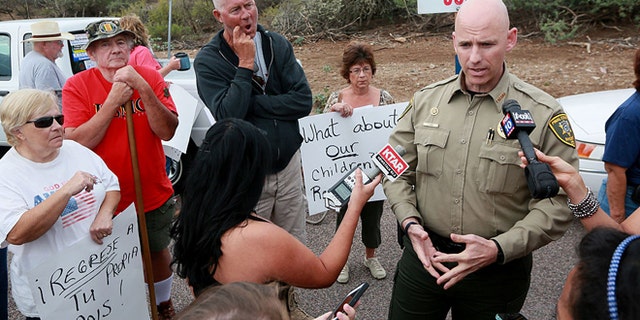 NEWYou can now listen to Fox News articles!
An Arizona sheriff says that there is so much Mexican drug cartel activity in the state's western desert that anyone who travels to the area this Memorial Day weekend should be armed and vigilant.
Pinal County Sheriff Paul Babeu sent a warning to campers, hikers and travelers that they should be on alert in case they get caught between rival drug gangs.
"We have communication that shows that there is hitmen being sent up to Pinal County," Babeu said in a press conference.
The Sheriff said anyone using back roads, campsites and trails should consider carrying a firearm.
"We have a Second Amendment freedom and right, and I encourage everyone to be armed, to be properly trained," Sheriff Babeu said in an interview on Hannity on the Fox News Channel Thursday night.
Sheriff Babeu says the reason for the warning is "based on credible information about recent Mexican drug cartel violence." He cited three violent incidents between cartels and criminals in the area since late March, and the arrest of 21 cartel scouts who were caught high in mountains serving as cartel look-outs tasked with radioing in movements of law enforcement.
The sheriff says most of the cartel violence involves shootouts between criminals when cartel drug mules – carrying marijuana, meth, and heroin – are attacked by so-called RIP crews or armed criminals who ambush the mules in an attempt to steal the drugs.
"Cartels are responding to additional threats against their products, or their drugs. The more their drugs are taken, their profit margin goes down, so they want to protect their product so they are sending up hitmen," he said.
Sheriff Babeu, a Republican who is running for Congress after dropping out of the congressional race three years ago amid controversy, is a longtime proponent of strict immigration laws and beefed up border security.
Critics are wary of this new warning, some seeing it as political grandstanding. They point to the fact that other Southern Arizona sheriffs who are closer to the U.S. Mexico border have not seen any reason to give out specific warnings in their counties.
The Tucson Sentinel reports Pima County Sheriff Chris Nanos said his county has the longest border with Mexico of any county in the nation (126 miles) – and yet he has received no information that would warrant the kind of warning issued by Babeu.
"I hate to think he's grandstanding or anything, but I don't know of anything or any significant change that would make me issue a warning to my deputies in this county," Nanos told the Tucson Sentinel. "If he has intelligence that's different from mine, I would certainly be interested in that."
Babeu brushed off a question by a reporter on Tuesday who asked whether the new warning had anything to do with his congressional campaign.
"It has everything to do with that as well. I'm an elected official. It's not something new. I've been talking about this for eight years," Babeu said. "This is vitally important not just to our county, to the state of Arizona, to our country that we absolutely have to safeguard our families. The law should be enforced It's obscene to me that we have cartel members that literally think that they own the place."
Like us on Facebook
Follow us on Twitter & Instagram