Argentine judge freezes bank accounts of former president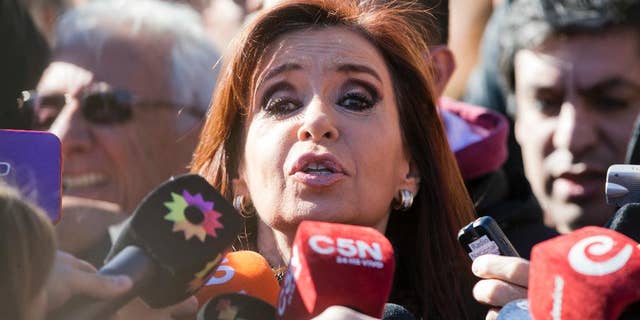 NEWYou can now listen to Fox News articles!
BUENOS AIRES, Argentina – An Argentine judge has frozen the bank accounts of former President Cristina Fernandez as part of an investigation into allegations of defrauding the state in her administration's handling of the dollar futures market.
Judge Claudio Bonadio issued the order Thursday after Fernandez refused to post a 15 million-peso ($1 million) security.
Fernandez left office last year. She's accused of having the Central Bank sell dollars in the futures market at an artificially low rate, causing the state to lose 5.3 billion pesos. If convicted, she could face 5 to 20 years in prison.
Fernandez denies any wrongdoing.
On Wednesday, she filed a complaint against Bonadio accusing him of conniving against her with opposition politicians.
Prosecutors are also investigating whether Fernandez had illicitly obtained money in safe-deposit boxes.