Argentine consular office rolling around Rio; hoping to solve small problems, avoid large ones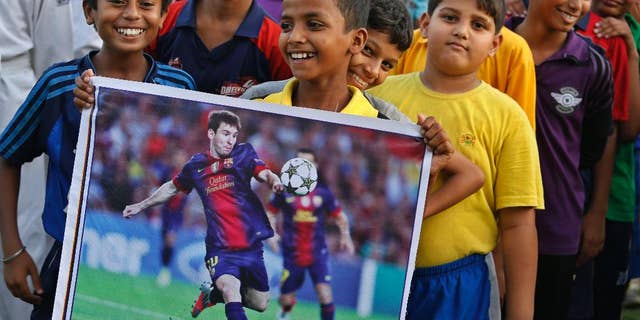 RIO DE JANEIRO – Gabriel Herrera has set up a walk-up Argentine consular office out of a blue and white van parked along Rio's famed Copacabana Beach.
He heads the embassy's legal and consular section in the capital Brasilia. While on the road, he's available for Argentines who need that kind of help — and he's sure to find some as 50,000 stream into Rio this weekend for Sunday's World Cup match at the Maracana against Bosnia-Herzegovina.
He'd prefer routine stuff like lost passports and stolen phones. But it could get more treacherous if members of Argentina's infamous hooligan gangs — known in Spanish as "Barras Bravas" — make it to town.
Says Herrera: "We are expecting the worst, and hoping for the best."
Argentina vs. Brazil is among football's most famous rivalries, and the proximity means Argentina's blue and white striped shirts are nearly as prevalent as Brazil's yellow and green.
Argentine visitors could top 100,000 for the last match in Group F on June 25 against Nigeria in the southern city of Porto Alegre, just a short drive from Argentina. Big numbers are also expected for the second game against Iran in Belo Horizonte.
"Having only easy problems would be good," Herrera said. "People have been walking by asking for tickets, which we don't have. So far, that is probably the top request."
At the 2014 World Cup, Brazil and Argentina could only meet in the July 13 final.
"A victory over Brazil in the final — in Brazil — would be an impossible dream," Herrera said.
Argentina — with England — has some of the world's most passionate fans. It also has some of the world's worst football hooligans. Violence is endemic in the Argentine league with showdowns between rival gangs sometimes leading to shootings, stabbings and deaths.
Brazilian and Argentine police are trying to keep the hooligans out of the country, knowing if they arrive they are likely to clash with Brazil's own hooligan gangs.
"We are hoping it is all controlled at the borders," Herrera said.
He didn't want to talk about the hooligan threat, but widely circulated reports say Brazil is trying to stop about 2,000 Argentine hooligans from entering. Four years ago they made it to South Africa and wound up fighting among themselves and being deported.
"I think if some of them (Barras) get in here and find their way near the stadiums, there could be big trouble," said Jonathan Arguero, and Argentine from Buenos Aires who was standing across the street from the mobile embassy.
"We have to deal with them every day, and they are a cancer on our football," he added.
Judge Carlos Federico Pellegrino sits on a provincial criminal court in General Pico, an Argentine city of 60,000 in the central Pampas area.
He said he handed out a sentence last week in a murder case.
"Now I am on vacation here, trying to relax," he said. "Really no matter what happens (here) it will seem small compared to the problems I handle."
Standing in a line to enter the Fan Fest on Copacabana — an open-area to watch the matches — he had only one complaint.
"We came here and we do not have any game tickets. This is a problem."
It's not one he's expecting the rolling embassy to solve.
___
Stephen Wade on Twitter: http://twitter.com/StephenWadeAP