AP Explains: Brazil president impeached, now what?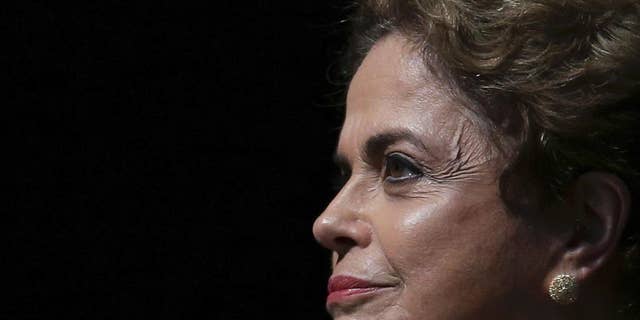 NEWYou can now listen to Fox News articles!
SAO PAULO – Brazil's Senate voted Thursday to impeach President Dilma Rousseff, a move that temporarily removes her from office while a trial is conducted. Rousseff is accused of using accounting tricks to hide budget deficits and bolster an embattled government. Rousseff has long argued she did nothing wrong.
While the Senate decision is a major development, it's not the end of the political fight or the economic and corruption problems that fueled the impeachment proceedings.
The Associated Press explains what's next:
___
NOW WHAT?
The Senate now has up to 180 days to vote whether to permanently remove Rousseff on the misconduct charges. Many analysts say the Senate will arrive at a verdict in less time, though a timeline hasn't been set.
In the interim, Vice President Michel Temer will temporarily assume the presidency. If the Senate votes to remove Rousseff, Temer will serve out her term, ending Dec. 31, 2018.
___
DOES ROUSSEFF HAVE OPTIONS?
Rousseff has repeatedly vowed to fight what she characterizes as a modern-day coup d'état. Speaking Thursday after the impeachment vote, Rousseff said she would use "all legal means" in that effort.
In reality, however, Rousseff has few options. Appeals to the Supreme Federal Tribunal, the country's highest court, have failed. Last month, she said she might take her case to Mercosur, the South American trade bloc. However, it's highly unlike that members of Mercosur, which depend greatly on Brazil, Latin America's largest economy, would risk alienating the incoming president.
___
WHAT'S EXPECTED OF TEMER?
Temer, of the centrist Democratic Movement Party, has said he would expand popular social welfare programs, though he has also signaled he would reduce government spending and privatize many state-run companies.
He has formed a market-friendly cabinet with pro-business figures in an attempt to restore confidence. He has appointed as finance minister Henrique Meirelles, who headed the central bank during one of Brazil's most stable and prosperous periods: the two administrations of former president Luiz Inacio Lula da Silva, when the country's economy grew 4 percent on average.
___
CAN TEMER REALLY TURN THE ECONOMY AROUND?
Economists say one of the biggest problems is high government spending, particularly to maintain a very generous pension system. Trying to make structural reforms has proved impossible for previous administrations, including Rousseff's.
It remains to be seen whether Temer will have the political capital, or desire, to float measures that will be particularly unpopular at a time when the country is already suffering its worst recession since the 1930s.
___
WHAT ABOUT CLEANING UP CORRUPTION?
Graft is so endemic in Brazil that around 60 percent of the 594 lawmakers in Congress are facing allegations of corruption or other forms of wrongdoing.
Anger over a multi-billion dollar kickback scheme at state oil company Petrobras damaged Rousseff. While she was never implicated, much of the alleged corruption happened during the 13 years that the Workers' Party was in power.
Temer himself has been implicated — though never charged or arrested — in the Petrobras probe. Many worry that he'll try to weaken the investigation.
___
WHAT'S THE UPSHOT?
For government supporters, the impeachment push amounts to a coup because Rousseff has not been charged with a crime. They say Brazil's traditional ruling class has been unnerved by the social movement under Rousseff's Worker's Party and is seizing the opportunity to take back power.
Opponents say the administration's maneuvering of funds was illegal and an attempt to mask problems that exacerbated the recession, such as huge budget gaps that have surfaced over the last year. They say impeachment can't be considered a coup because it's allowed in the constitution.
Put another way, this conflict is far from over.
____
Prengaman reported from Buenos Aires, Argentina.