Anti-Pinochet Protest In Chile Leaves 7 Injured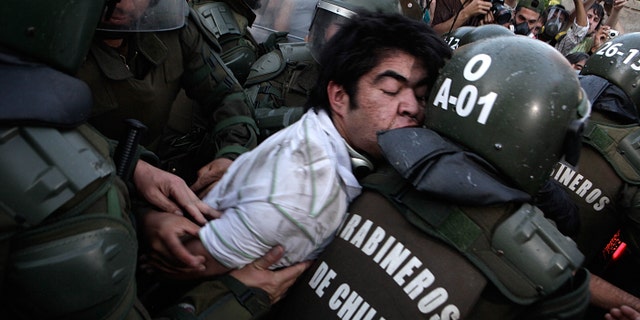 At least seven people were injured in Chile when police used tear gas on a group of demonstrators protesting against an event honoring a former military officer imprisoned for killings during the dictatorship of Gen. Augusto Pinochet.
Six police officers were hurt during the clashes Monday night outside an exclusive club in Santiago, where about 1,000 protesters had congregated. Protesters hurled rocks at police and nine demonstrators were arrested.
Chilean human rights activists organized the protest to condemn the gathering in honor of ex-Brigadier Miguel Krassnoff, who is serving a 144-year prison sentence for crimes related to the kidnappings and killings of government opponents during Pinochet's rule from 1973 to 1990.
Several hundred people attended the tribute, which was organized with the help of Cristian Labbé, the right-wing mayor of Santiago's Providencia district, who also was a police official in Pinochet's regime.
Krassnoff's lawyer spoke at the club, criticizing the government for failing to speed the trials of military officers charged with crimes during the period. Krassnoff's wife also demanded that her husband's rights be respected. Labbé did not attend.
Krassnoff's first trial began in 2003, and he was convicted and imprisoned in 2006. He has been charged in a total of 23 cases stemming from the kidnappings and killing of political opponents. He also is accused of overseeing the torture of opponents for Pinochet's secret police.
Those hurt during the protest outside the club included a woman who was struck in the abdomen with a tear gas canister.
According to an official report by the civilian government that succeeded Pinochet, 3,197 people were killed for political reasons during Pinochet's long reign and many others were tortured.
Based on reporting by the Associated Press.
Follow us on twitter.com/foxnewslatino
Like us at facebook.com/foxnewslatino