Another Suspension Over Controversial Funeral Photos Posted By Wisconsin National Guard Member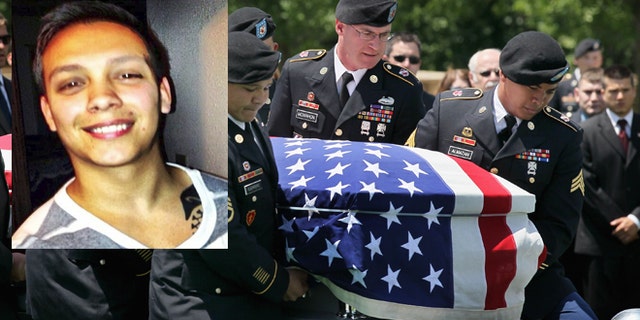 NEWYou can now listen to Fox News articles!
A second member of the Wisconsin National Guard has been suspended in a growing controversy over images posted online apparently making fun of funerals for fallen soldiers.
Sgt. Luis Jimenez was suspended from his duties in the Wisconsin Funeral Honor Guard after he took to Facebook to defend Spc. Terry Harrison — a member of the Madison, Wis.-based 1st Battalion, 147th Aviation Regiment — for photos she posted on Instagram, Army public affairs Officer Maj. Paul D. Rickert told Fox News Latino.
"No punishments have been taken yet as the investigation into the matter is still open and we will make a recommendation before an actions are taken toward punishing anyone," Rickert said. "Sgt. Jimenez is currently suspended from the funeral guard and has been assigned other duties."
Jimenez and Harrison are the only two soldiers currently suspended while the Wisconsin National Guard conducts its investigation into the scandalous photos.
One image posted by Harrison shows various members of the troop posing — most smiling and others in comical positions — around an empty, American-flag draped coffin at the Professional Education Center, a National Guard training facility in North Little Rock, Ark.
The photo is accompanied by a caption that reads: "We put the FUN in funeral your fearless honor guard from various states."
Jimenez defended his fellow state Guard members, posting on his Facebook page that it is good for soldiers to have some fun every once in a while, especially when performing the serious job of National Guard Funeral Honors.
"She isn't disrespecting anyone," Jimenez wrote on his page, which was later taken down. "It's actually a selfless commitment she has made. These practice sessions are very long. It's good to let loose a little."
Harrison's photos went viral earlier this week and drew the ire of many veterans and military supporters, who unleashed a tirade of angry comments on social media sites like Facebook and Twitter.
Jeremy Glenn, an Operation Iraqi Freedom veteran, tweeted his disdain for the photos:
Rickert said that Harrison was suspended on Tuesday and added that while he understands that their content is upsetting to many, the pictures do not do not portray any misconduct during the performance of actual military funeral honors.
"A military funeral is the final show of respect for our veterans and their families, and we take that solemn duty very seriously," Rickert said in a news release. "The very name 'military funeral honors' underscores the importance we ascribe — both as the military and society at large — to such solemn occasions. These photos and comments do not appear to align with those values."
Another photo causing a stir on the web shows Harrison with a folded flag in the background with the caption, "It's so damn cold out. Why have a funeral outside? Somebody's getting a jacked up flag."
Jimenez said in another Facebook comment that Harrison's comments were warranted given the degree of difficulty in folding a flag in freezing temperatures.
"Do you know how fricken hard it is to fold a flag to perfection when ur hands are number?" Jimenez wrote in response to comments for other users on Facebook. "Do you know how thin ore gloves are?"
Jimenez, who was unavailable for comment, has since deleted his Facebook page.
The Army Times reported that this is the second incident in less than a week that has caused the Armed Forces embarrassment over social media. Air Force Staff Sgt. Cherish Byers is the subject of an investigation after a three-year-old photo of her tongue-kissing a Prisoner of War-Missing in Action symbol went viral.