Angela Merkel's conservative party wins crucial German regional election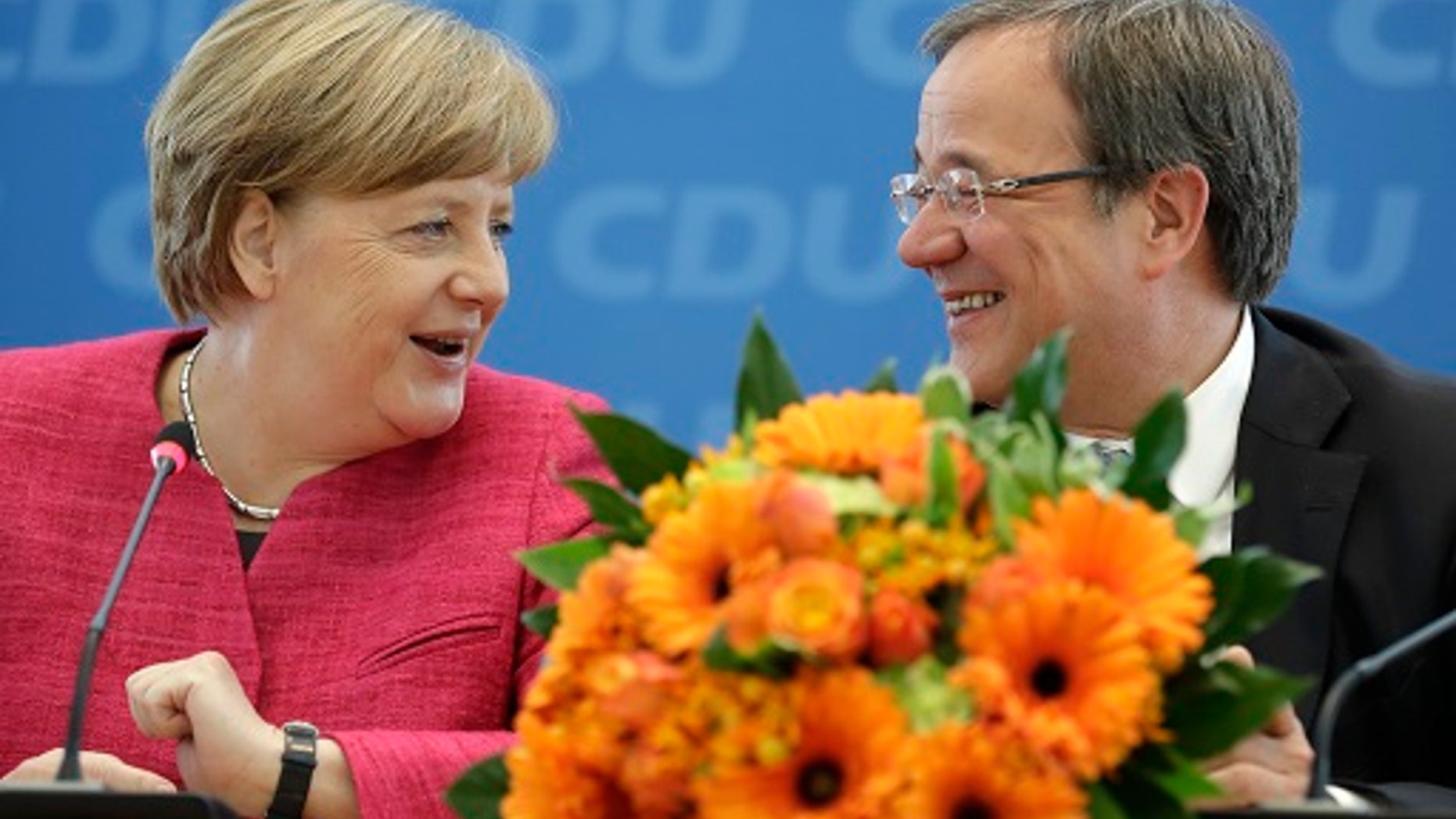 German Chancellor Angela Merkel's conservative party narrowly won a state election Sunday in the region their center-left rivals have led for years.
The western state of North Rhine-Westphalia, Germany's most populous state, has been governed by the center-left Social Democrats for all but five years since 1966.
GERMANY'S MERKEL REJECTS CALL TO REINTRODUCE CONSCRIPTION
Merkel's Christian Democratic Union won 33 percent of the vote for the state legislature, while the Social Democrats received 31.2 percent.
The results dealt a blow to Martin Schulz, the Social Democrats' leader. Schulz, a North Rhine-Westphalia native, is challenging Merkel, who is seeking a fourth term as chancellor, in the upcoming September national parliamentary election.
Schulz, a former European Parliament president, was hoping to get a win after two previous state election defeats since late March gradually weakened his party's momentum.
"This is a difficult day for the Social Democrats, a difficult day for me personally as well," Schulz said. "I come from the state in which we took a really stinging defeat today."
FRANCE'S NEW PRESIDENT TO MEET MERKEL NEXT WEEK
Social Democrat governor Hannelore Kraft's coalition lost its majority as her junior governing partner, the Greens, received just 6.4 percent. Kraft immediately resigned as her party's regional leader. Conservative challenger Armin Laschet, a deputy leader of Merkel's party, was set to replace Kraft.
The Social Democrat's results in North Rhine-Westphalia was their worst since World War II. In the state's last election in 2012, the Social Democrats comfortably defeated the Christian Democratic Union by 39.1 percent to 26.3 percent.
GERMANY'S MERKEL BLASTS PROTECTIONISM AHEAD OF G-20 SUMMIT
The result gives the Christian Democratic Union and Free Democrats a slim majority in the region home to 17.9 million and one in five voters. The territory includes the cities of Cologne, Duesseldorf and Ruhr industrial area.
Merkel said the election in North Rhine-Westphalia "is no easy terrain for us," and criticized the Social Democrats for letting the infrastructure decline and being careless with the region's security, according to the New York Times.
The Social Democrats and Greens have also been criticized for the lack of security during mass sexual assaults on women in Cologne on New Year's Eve and state authorities' negligence of arresting a Tunisian man who plowed a truck into a Berlin Christmas market last December, killing 12 people.
National polls show the Social Democrats trailing Merkel's conservatives by up to 10 points after drawing level earlier this year.
The Associated Press contributed to this report.