American couple 'missing' in Peru makes contact with family, is reportedly safe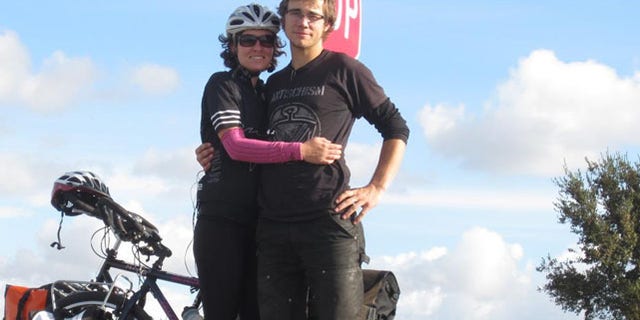 LIMA, Peru – Peru's tourism minister said he spoke with a young California man who has been reported missing along with his girlfriend for more than a month and that the couple is navigating an Amazon tributary headed for Ecuador.
Jose Luis Silva said Wednesday that when he told Garrett Hand about all the commotion he and girlfriend Jamie Neal caused by failing to notify relatives of their whereabouts, the 25-year-old was surprised and laughed, saying that everything in Peru was "fantastic."
Silva did not say how he contacted the couple, who are reportedly on the Napo River in the Amazon region.
Francine Fitzgerald, the mother of Hand, and a resident of Concord, California, a suburb of San Francisco, said on Wednesday she talked to her son by phone earlier in the day.
"I'm so glad my son is well," she told KCBS radio.
Family members of the Bay Area couple had mounted a publicity campaign to find them, including on Facebook. There had been speculation that the young travelers had been kidnapped, possibly by rebels.
Peruvian officials, sensitive of their country's reputation as a safe tourist destination, said they had sent two officials to the Amazon to locate the couple and bring back proof that they are safe and sound.
"It has cost as many years and much sacrifice to put Peru's image at the level it is today," said Silva.
The U.S. Embassy had issued a statement earlier this week saying Hand and Neal, both 25, were last heard from Jan. 25 while traveling from the highlands city of Cuzco to Lima. The two had been on a cycling trip.
Hand's mother said in Facebook postings Tuesday that the family had received phone calls from the U.S. Embassy and the Peruvian government saying the couple had been spotted in a remote village.
The Associated Press on Wednesday spoke with people who said they had seen the couple recently.
Belinda Bueno, who runs the tourist lodge Begonia in Iquitos along with her mother, said Hand and Neal stayed there between Feb. 10 and Feb. 16, and had spoken of their plans to travel to Ecuador on a route outside the normal tourist circuit.
"There were no problems. They did not get drunk or cause a scandal, or have parties. They were peaceful; a nice couple," she said.
A constable in the municipality of Santa Clotilde, Carlos Chavez, told the AP that the Americans were in Angoteros on Tuesday and that they should be arriving at the border post of Cabo Pantoja soon. He said they were traveling in a small river boat called a "peque-peque."
"The Napo is a peaceful region. It is controlled by the police, army and navy. No incidents have been registered here for years," Chavez said.