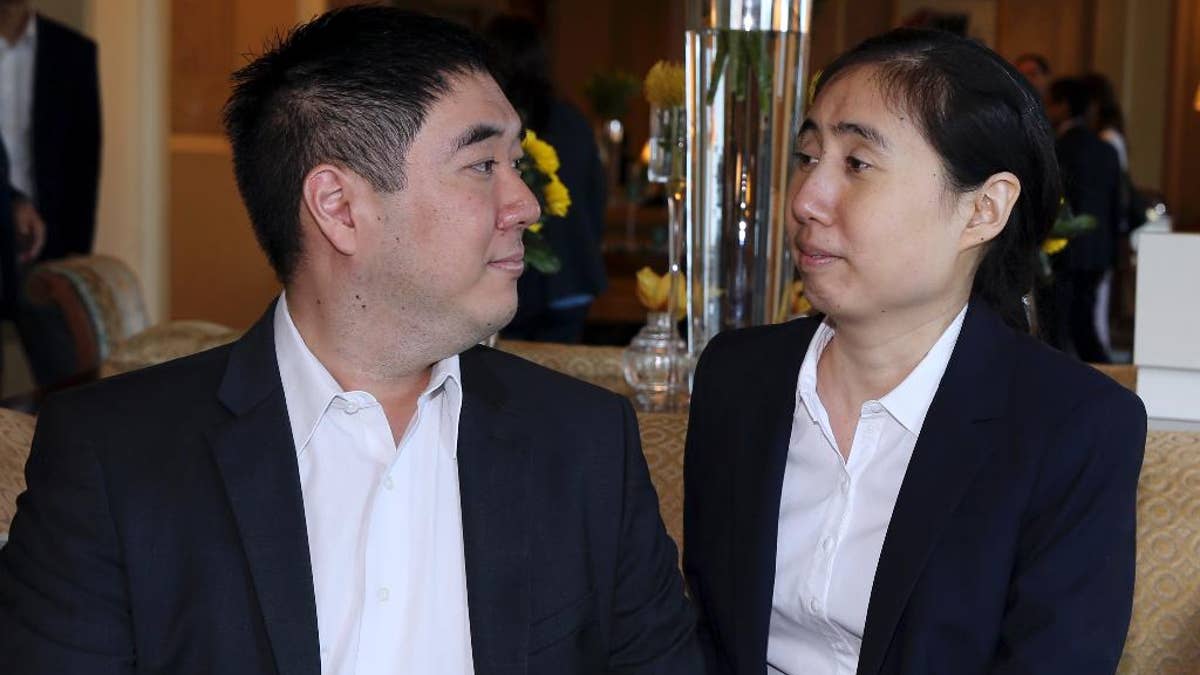 An American couple being held in Qatar after being acquitted in the death of their 8-year-old adopted daughter tell Fox News that they are "tired of waiting" for the U.S. government to intervene and secure their freedom.
Matthew and Grace Huang were stopped from exiting the conservative Gulf nation and had their passports confiscated as they tried to pass through airport immigration control in the capital, Doha, said family representative Eric Volz, who is traveling with them.
The Los Angeles couple had been banned from leaving the energy-rich OPEC nation while their case made its way through the courts, but the appeals court ruled Sunday they were free to leave after the presiding judge overturned a child endangerment conviction against them.
"We're waiting for the U.S. to step in," Matthew Huang told Fox News on Sunday. "We don't understand how -- why the U.S. Government cannot take an innocent U.S. Citizen and allow us to leave the country of Qatar after two years of waiting and waiting and waiting. We're tired. We're tired of waiting."
The Huangs, of Los Angeles, were originally charged with murder following the January 2013 death of their adopted daughter, Gloria.
They were released from prison in November 2013, but were banned from leaving Qatar before their trial. In March, a judge convicted the Huangs of child endangerment and sentenced them to three years in prison.
The couple claimed that Gloria, who was born in Ghana, died of medical problems complicated by unusual eating habits that included periods of bingeing and self-starvation.
A doctor in Qatar who conducted Gloria's autopsy determined that dehydration and wasting disease were the cause of death.
Defense witnesses at the Huangs' trial testified that the girl appeared healthy and active just days before she died.
"There was no sign of sickness and she was doing very well and she died suddenly," Matthew Huang told Fox News. "We took her to the hospital. We took her to the emergency room. They did CPR on her for about 40 minutes and she died. Then we were arrested at the hospital."
The Huangs have two other children, both also adopted from Africa. They were permitted to leave Qatar during their parents' trial and are staying with relatives in the U.S.
Matthew Huang had been working in Qatar as part of infrastructure improvements for the country's hosting of the 2022 World Cup.
U.S. officials intervened on the couple's behalf by raising the case with Qatari officials on multiple occasions. State Department spokeswoman Jen Psaki last month urged Qatar to lift the Huangs' travel ban immediately and bring the case to "an expeditious and just conclusion."
On Sunday, Secretary of State John Kerry said "it is time now… to let the Huangs return home.
"We are deeply concerned about new delays that have prevented their departure," Kerry added in the statement. "I spoke with Qatari Foreign Minister Attiya today and called on the government to immediately implement the court's decision and permit their return to the United States without further delay."
But Matthew Huang told Fox News that their requests for freedom are being ignored.
"We have been waiting two years for something to be done by our own government," he said.
The case has raised questions about possible cultural misunderstandings in Qatar, with an investigative report by police questioning why the Huangs, both of whom are of Asian descent, would adopt children who did not share their "hereditary traits." At one point in the appeal, the prosecution even raised the possibility of bringing human trafficking charges against the couple.
Gloria, born in Ghana, was severely malnourished when she was younger and would at times refuse to eat for several days before binge eating or getting food from unusual places, such as garbage cans or from strangers, according to a report prepared in the U.S. by Janice Ophoven, a pediatric forensic psychologist who reviewed the case for the family.
The report noted that such unhealthy anorexic eating patterns are not uncommon in children adopted from impoverished backgrounds, and was a behavior the girl's parents were trying to manage and correct.
The report also noted that Gloria had previously been treated for an intestinal parasite, and said recent blood tests could have indicated she suffered from an underlying bone marrow condition, as well as a vitamin D deficiency.
The Associated Press contributed to this report.