American Arrested With Small Arms Cache, Venezuelan Government Claims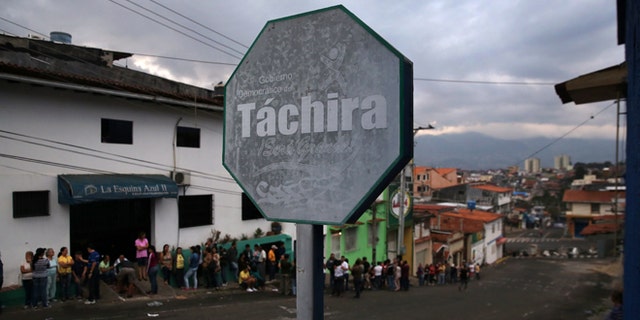 Venezuelan authorities say they have arrested an American man in the state of Táchira near the border with Colombia, in connection with the shooting of a neighbor who was playing his music too loud, according to the Caracas daily, El Universal.
A press release from the governor of Táchira, Vielma Mora, said that police had found three rifles – one with a silencer and a telescopic sight – two handguns and eight camouflage uniforms in the man's apartment. The statement did not name the man, identifying him simply as a "North American."
The Miami Herald reported that local media identified the man as a Floridian named "Jhon Michael Leiner," but El Universal referred to him as "Todd Michael Leiniger."
The U.S. State Department on Tuesday could not immediately confirm or deny the report to the Miami Herald.
Leiner or Leiniger was apparently arrested with one or two women: Vivian and Mariana Arreaza Sandoval, 27 and 33 years old, respectively.
According to El Universal, the American went to the apartment of neighbor Jorge Santos to complain about music, the two argued and Leiner or Leiniger shot Santos in the stomach.
In an unrelated event, Venezuela's interior minister reported Tuesday the arrest of nine people on charges of leading, financing and organizing violent anti-government protests in the Caracas municipality of Chacao.
Thanks to "previous intelligence operations," Miguel Rodríguez said, 10 homes were raided before dawn Tuesday, surprising nine people including one who, "according to people detained several days before, were handing out money" to demonstrators.
Police have warrants for 15 other raids, seeking to catch those who are directing "these violent groups engaged in terrorist activities," the minister said.
He said that those previously detained, whom they also identified as ringleaders, confessed they acted not just for the money but also in exchange for "genetically modified marijuana."
"They give them that drug to get them high and keep them in permanent activity against security forces," Rodríguez said.
Chacao Mayor Ramón Muchacho, a member of the opposition to President Nicolás Maduro, said this Monday that in the last few days "nobody knows why they are protesting," but said he continued to support peaceful anti-government protests while condemning those that have degenerated into violence.
Since Feb. 12, the Maduro government has faced a wave of protests against the insecurity reigning in the country, runaway inflation and scarcity of many consumer items. Some 41 people have died in the street fighting, with hundreds wounded and arrested.
Táchira is one of the hotbeds of the political unrest. President Maduro has often accused the U.S. government of fomenting the turmoil in an attempt to topple his socialist regime.
The discovery of a small-arms cache in the possession of an American citizen might seem to bolster those allegations.
Efe contributed to this report.
Follow us on twitter.com/foxnewslatino
Like us at facebook.com/foxnewslatino