Allegations against Mexican mayor and his wife tell a modern Macbeth story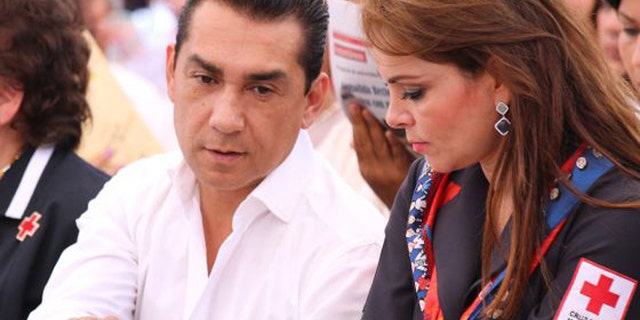 NEWYou can now listen to Fox News articles!
It was a match made in hell.
The former mayor of Iguala, Mexico, in the troubled state of Guerrero, José Luis Abarca Velázquez, 53, and his wife, María de los Ángeles Piñeda Villa.
Currently in jail in Mexico as the suspected masterminds of the disappearance and likely murder of 43 students from a teachers' college in Ayotzinapa, Abarca and Piñeda have lived a life allegedly drenched in corruption, violence and drug trafficking.
He was ambitious, and she was connected.
Her brothers Alberto and Mario, according to Spain's El Pais newspaper among other sources, started out as small-time drug dealers for the Beltrán Leyva gang but they rose quickly, and soon Sinaloa cartel boss Joaquín "El Chapo" Guzman tabbed them to take cocaine shipments from Colombia and ferry them north.
The Piñeda brothers also took it upon themselves to form a paramilitary force to help fend off rival cartels—the origins of the Guerreros Unidos band that the missing students were handed over to by local police on Sept. 26.
According to the Mexican paper, Excélsior, Abarca is known around town as a vain blowhard with a shortness complex—he measures just over five feet tall.
He met his future wife in a clothing store owned by his father, and they married young. They have four children, three of them daughters.
Abarca started out selling gold jewelry, a business he took over from his aunt, and turned that into a small real estate empire. He owns 17 prime properties in the region, including the Los Tamarindos shopping center, the largest in Iguala.
A few years ago, he turned himself into a politician and won the mayor's seat in 2012.
Once ensconced in City Hall, he wasted no time in getting his brothers, their wives, his nephews and in-laws onto the municipal payroll. In 2014, Abarca was awarded a law degree from a school more than 100 miles from Iguala, despite keeping a full mayoral schedule.
Darker allegations have been made against Abarca, too, including being the actual trigger man in the execution-style slaying of a political rival named Arturo Hernández Cardona, who disappeared in May 2013 along with seven other people, five of whom escaped their captors.
Hernández's wife, Sofia Mendoza, is an Iguala city councilwoman, and she became convinced that the mayor killed him.
For months she had to continue to work with Abarca, she told the Los Angeles Times, "I tried not to look at him."
Mendoza got authorities to listen to the testimony of one of the survivors, who identified the mayor himself as her husband's killer, but no charges were brought. Three days before the 43 students disappeared, she gave a statement to the Inter-American Commission on Human Rights.
"If [authorities] had paid attention to me and what happened to my husband," she told the Times, "what happened to the [students] could have been avoided."
But according to prosecutors, it was an open secret that Piñeda was the real power behind the throne.
As first lady, she got herself named to the presidency of the local arm of a national public-assistance agency, the Desarrollo Integral de la Familia (DIF), and got herself elected as a representative in the state legislature in September.
By most accounts Piñeda was setting herself up to succeed her husband as Iguala mayor.
According to prosecutors, one of the leaders of Guerreros Unidos, Sidronio Casarrubias Salgado, identified Piñeda as the "principal operator of criminal activities from City Hall," according to Mexico's Attorney General, Jesus Murillo Karam, "of course with complicity of her husband ... and [Iguala] security chief Felipe Flores Velazquez."
Allegedly, she acted as the gang's chief financial officer and used its money to fund the political campaigns of the disgraced former governor of the state, Angel Aguirre Rivero.
Abarca and Piñeda went into hiding when the protests after the disappearance of the students forced the federal government to send in armed forces to take control of the region.
They remained on the lam until Nov. 4, when they were found in a ramshackle room with an air mattress in the Iztapalapa section of Mexico City.
Abarca looked emaciated. Piñeda's makeup was perfect.