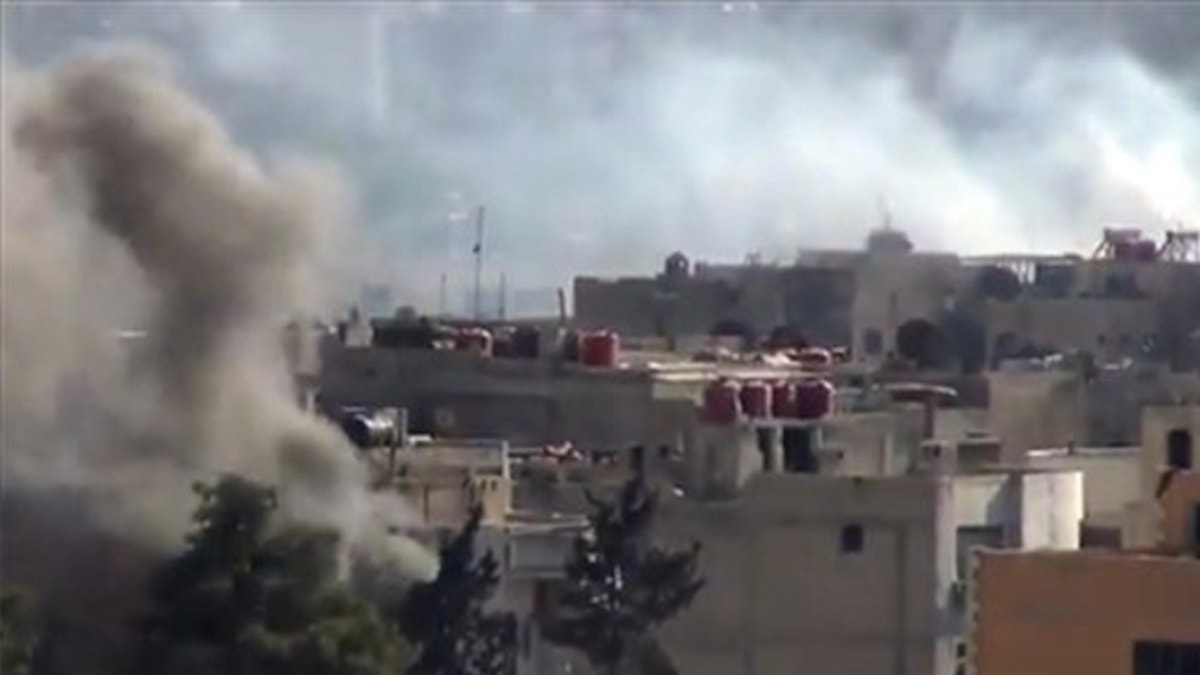 BEIRUT – Syrian government troops battled Al Qaeda-linked rebels over a regime-held Christian village in western Syria for the second day Thursday, as world leaders gathered in Russia for an economic summit expected to be overshadowed by the prospect of U.S.-led strikes against the Damascus regime.
Residents of Maaloula said the militants entered the village late Wednesday. Rami Abdul-Rahman, the director of the Britain-based Observatory for Human Rights, said the fighters included members of the of Al Qaeda affiliated Jabhat al-Nusra group.
Despite heavy army presence in the village, Abdul-Rahman said the rebels patrolled its streets on foot and in vehicles, briefly surrounding a church and a mosque before leaving early Thursday.
The rebels launched the assault on the ancient Christian village of Maaloula — which is on a UNESCO list of tentative world heritage sites — on Wednesday after an al-Nusra fighter blew himself up at a regime checkpoint at the entrance to the mountain village. The village, about 40 miles northeast of Damascus, is home to 3,300 residents, some of whom still speak a version of Aramaic, the ancient language of biblical times believed to have been spoken by Jesus.
Heavy clashes between President Bashar Assad's troops and Nusra Front fighters persisted in surrounding mountains Thursday, according to the Observatory, which collects information from a network of anti-regime activists.
Speaking by phone from a convent in the village, a nun told The Associated Press that the rebels left a mountaintop hotel Thursday after capturing it a day earlier. The nun said the frightened residents expect the Islamic militants to return to the Safir hotel and resume shelling of the community below.
"It's their home now," the nun said. She said some 100 people from the village took refuge in the convent. The 27 orphans who live there had been taken to nearby caves overnight "so they were not scared."
The nun spoke on condition of anonymity for fear of reprisals.
Meanwhile Thursday, a car bomb exploded outside a research center belonging to the Ministry of Industry in area of Soumariya near Damascus, killing four people and wounding several others, a government official said. The official who spoke on condition of anonymity because he was not authorized to speak publicly.
In Damascus, three people were injured when several mortar shells hit two residential neighborhoods, the state news agency SANA reported. Rebels fighting to topple Assad have frequently fired mortars in the capital to disrupt life there that the regime tries hard to portray as normal and detached from the fighting raging around the country.
In the northern province of Aleppo, a Syrian surgeon working for an international aid group that supports doctors in war zones was killed. Doctors Without Borders said in a statement Thursday that the 28-year-old surgeon, Muhammad Abyad, was killed in an attack. Abyad, whose body was found Tuesday, had been working in an Aleppo hospital run by the group.
The Syrian conflict started in March 2011 as largely peaceful protests against Assad's rule. It turned into a civil war after opposition supporters took up arms to fight a brutal government crackdown on dissent. After two years of fighting, the civil war hit a stalemate with the rebels controlling much of the countryside in the north, east and south, and the regime holding on to most urban centers in the west, where the majority of Syrians live.
The four-decade iron rule of the Assad family over Syria long has rested on support from the country's ethnic and religious minorities, including Christians, Shiite Muslims and Kurds. The Assad family and key regime figures are Alawites, followers of an offshoot of Shiite Islam, while most rebels and their supporters are Sunni Muslims.
More than 100,000 people have been killed in the war, with nearly 7 million people uprooted from their homes. U.N. officials estimate that five million Syrians have been displaced inside the country while an additional 2 million Syrians have fled to neighboring countries. The total amounts to nearly one-third of Syria's population, which stood at 23 million before the fighting began.
United Nations humanitarian chief Valerie Amos met with Syrian government officials in the capital Thursday, lobbying them for access to civilians trapped in areas where fighting has raged.
After a meeting with the President of the Syrian Arab Red Crescent, Amos told the AP that she is "extremely concerned that the situation on the ground is becoming worse."
An alleged chemical attack near Damascus in August has brought the U.S. at the brink of carrying punitive airstrikes on Syria after the Obama administration concluded that Assad's forces were responsible.
President Barack Obama has been lobbying for international and domestic support for punishing Assad's regime, which the U.S. says fired rockets loaded with the nerve agent sarin on rebel-held areas near Damascus before dawn on Aug. 21, killing hundreds of people.
Obama has called chemical weapons use a "red line." Top administration officials have argued before the Senate and around the world that Assad would take inaction by Washington as a license for further brutality against his people.
So far, however, Obama has won little international backing for action. Among major allies, only France has offered publicly to join the U.S. in a strike.
At the Group of 20 economic summit in St. Petersburg, Obama will later Thursday confront Syria's closest supporter, Russia, as well as foreign leaders skeptical of his call for an international military intervention in Syria.
Moscow and Washington have sharply disagreed over ways to end the Syria bloodshed with Russia firmly supporting Assad's regime and protecting it from punitive actions in the United Nations. The U.S. has backed the opposition and has repeatedly called on Assad to step down. He has refused and the U.S. has been supporting the rebels with non-lethal aid and by training some rebel units in neighboring Jordan.
Russian President Vladimir Putin insists Obama has yet to prove his case for striking Syria, although Putin appeared to have tempered his rhetoric slightly in a pre-summit interview Wednesday with The Associated Press. He said then that he wouldn't rule out backing a U.N. resolution if it can be proved Assad used chemical weapons, as the U.S. has alleged.
EU President Herman Van Rompuy urged U.N. investigators to release information as soon as possible about the chemical weapons attack in Syria so that the international community can decide how to respond.
In unusually strong language, Van Rompuy told reporters in St. Petersburg on Thursday that the Aug. 21 attack "was a blatant violation of international law and a crime against humanity." But, he said, it's too early for a military response.
Pope Francis urged world leaders to abandon the "futile pursuit" of a military solution in Syria and work instead for dialogue and negotiation to end the conflict.
In a letter to Putin, the Group of 20 host, the pope lamented that "one-sided interests" had prevailed in Syria, preventing a peaceful solution and allowing the continued "senseless massacre" of innocents.