Al-Qaeda-linked group claims role in Syrian bombing against Assad loyalists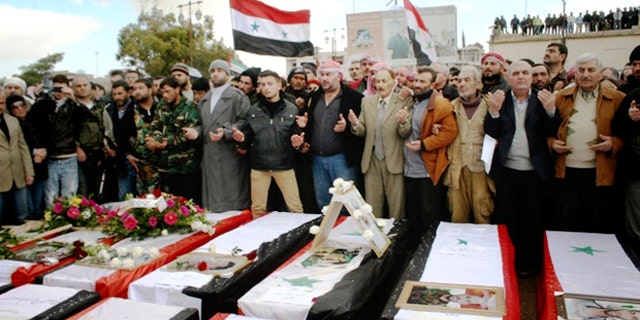 BEIRUT – An Al Qaeda-linked group fighting alongside Syrian rebels claimed responsibility Monday for a suicide car bombing that reportedly killed dozens of President Bashar Assad's loyalists last week.
Islamic militants have been the most organized fighters battling government troops in the 22-month-old conflict in which more than 60,000 people have been killed. Their growing prominence has fueled fears that Muslim radicals may try to hijack the revolt, and has contributed to the West's hesitance to equip the opposition with sophisticated weapons.
Jabhat al-Nusra, which the U.S. says has ties to Al Qaeda and has declared a terrorist organization, said in a statement posted online that one of its suicide bombers detonated a car bomb last Monday at the headquarters of a pro-government militia in the central province of Hama. It said the bomber drove a truck packed with explosives to the militia's complex in the town of Salamiya and blew himseful up "to give the tyrannical regime a taste" of violence it has been inflicting on the Syrian people.
Activists said at least 42 people, mostly pro-Assad militiamen, were killed in the blast. The government did not say how many people were killed, although state-run SANA news agency published photographs of what it said was a funeral procession for the blast's victims on Wednesday. In one of the photographs, a dozen men are seen standing behind 11 caskets, wrapped into a Syrian flag.
Jabhat al-Nusra has previously targeted government institutions in Damascus with suicide bombers and has led successful attacks on military bases and strategic territory in the country's north.
The suicide bombings are part of the relentless violence that has engulfed Syria since the uprising against Assad began in March 2011.
On Monday, activists said troops were battling rebels in several towns and villages around Damascus, including in Daraya, Arbeen and Zabadani. The Britain-based Syrian Observatory for Human Rights said the regime's forces also shelled several of the capital's suburbs.
The areas outside of Damascus have been rebel strongholds since the uprising began. In recent months, the rebels have used them as a base from which they have been trying to push into central Damascus, the seat of Assad's power.
In the north, troops clashed with rebels in al-Hasaka province along Syria's border with Turkey, the Observatory said, adding that at least 10 rebels were killed in the fighting that erupted Sunday after the opposition fighters attacked a government checkpoint.
International efforts to stop the bloodshed in Syria have repeatedly failed and both sides fighting in the civil war are convinced they can defeat the other on the battle field.