Ahmadinejad Reportedly Not Showing Up for Work, Sparking Rumors of a Possible Power Shift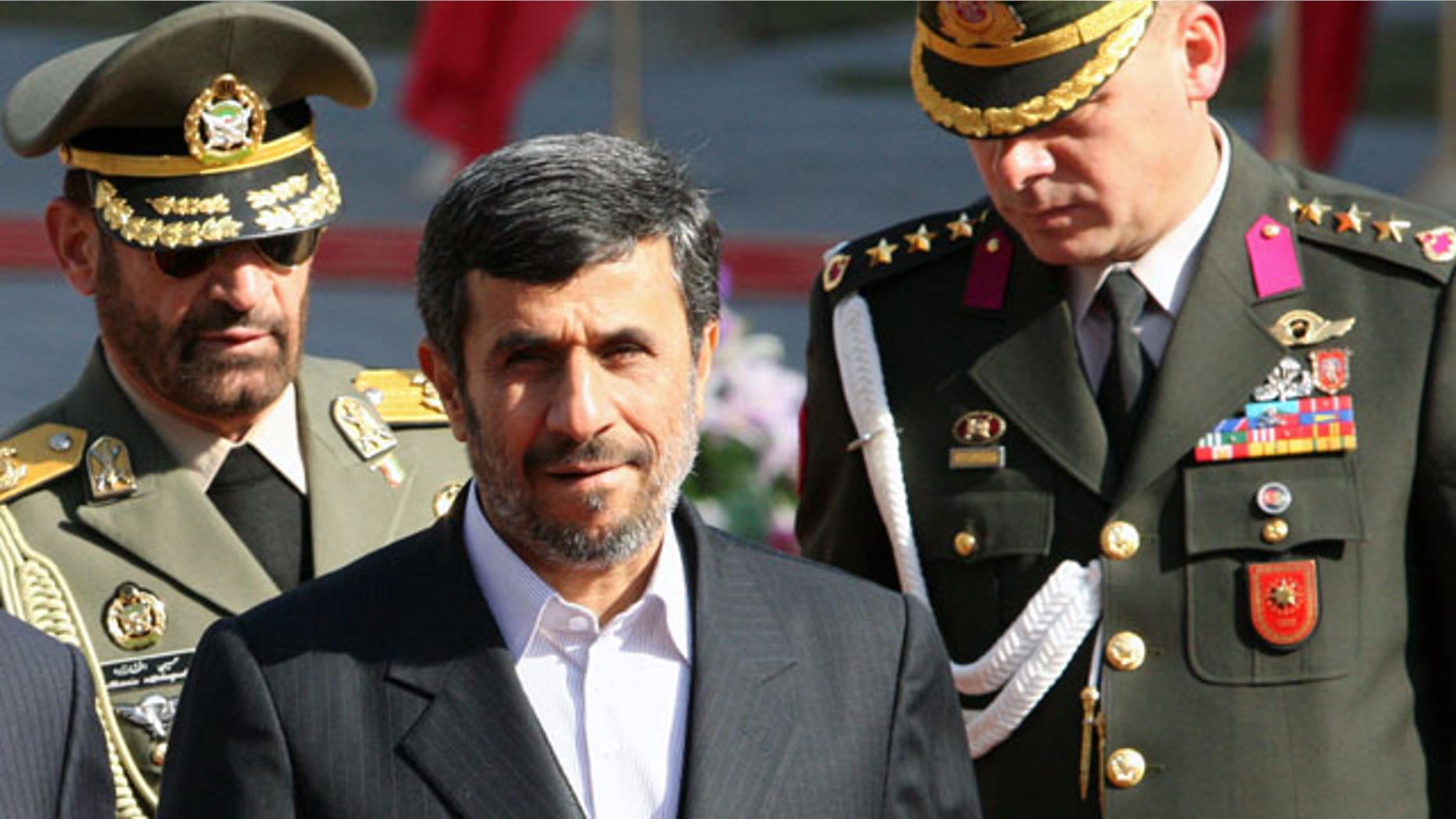 Deep rifts among Iran's ruling elite have reached an all-time high in recent weeks, according to sources, who say things have gotten so bad that President Mahmoud Ahmadinejad may have stopped showing up for work.
Iran's complex power structure has for years been compared to a multi-headed hydra, with multiple points of strength. But the struggle now appears to have boiled down to a showdown between Ahmadinejad and Iran's Supreme Leader, Ayatollah Ali Khamenei – once viewed as Ahmadinejad's biggest cheerleader.
Dr. Mohsen Sazegara, one of the founders of Iran's Revolutionary Guard and now an opposition figure living in the U.S., says it's a classic Iranian power struggle.
"We have always had this divide by two system, since the founding of the Islamic Republic. The main problem here is a lack of democratic mechanisms in the constitution of the country. There will always be disagreements, and competition for power." And no clear way to resolve them.
There have been disputes over positions in the cabinet, with the apparent sidelining of longtime Ahmadinejad confidante Esfandiar Rahim-Mashaei, often viewed as the man to take the torch from Ahmadinejad when his term runs out.
Some have cast Mashaei as the Dmitri Medvedev to Russia's Vladimir Putin – the real power behind the Kremlin. Mashaei, who has made controversial comments in the past – like saying Iranians could actually be friends with the people of Israel - has been cast of late as an Iranian nationalist rather than an ideologue of the Islamic Republic regime and its pan-Islamic position.
There are other signs of trouble between the president and the supreme leader. When Ahmadinejad tried to fire his powerful Intelligence chief, Heidar Moslehi, Khamenei intervened to reinstate him. And things have gotten so bad that Ahmadinejad not only is reportedly not showing up to work, but may be planning to resign and has presented a list of demands for the Supreme Leader, including removing the current Chief Nuclear Negotiator and Head of the Supreme National Security Council Saeed Jalili.
There are also rumors that Ahmadinejad wants to give an upcoming report on the economy and subsidies live on state television next week, but is being told he can only do it on tape, fueling speculation he may be censored. Also, the Mehr News agency reported Wednesday that a cabinet meeting three days ago was presided over by Vice President Mohammad-Reza Rahimi rather than the president. And Ali Banaei, a member of parliament from the religious city of Qom, has announced that Ahmadinejad's tour of the city this week had been cancelled.
Ahmadinejad's absence at the presidential palace this week has thrown even the usually compliant supporters of the president into speculation frenzy. Qom cleric Ahmad Najmi, previously a diehard Ahmadinejad fan and head of the Rasa News Agency, had been silent about the president's recent absence from the scene.
But his angry online commentary alleges the president's actions aim to "weaken the Supreme Leader and strike key revolutionary organs."
And IRNA news agency's release of only part of a statement by the supreme leader broke with the rule of publishing the leader's remarks only in entirety.
Many blamed Ahmadinejad for that oversight, according to former Iranian diplomat Mehrdad Khonsari.
"Ahmadinejad, having polarized the internal Iranian political scene and having effectively sidelined all elements associated with the 'reform campaign,' such as Khatami, Rafsanjani, Mousavi etc, is now trying to consolidate his own factional position even more by essentially overruling the supreme leader," said Khonsari. "His action in seeking the resignation of the Intelligence Minister as well as censoring a statement by the Supreme Leader in the country's IRNA news agency were interpreted as steps aimed at encroaching and usurping powers vested only in Ayatollah Khamenei."
Khonsari says Ahmadinejad, by boycotting work and as such trying to force certain concessions, is playing a futile game of "chicken."
The dispute has proved a source of much amusement and glee to opposition cyber-activists. One has suggested that a president who has always hungered for the international limelight can only be coerced "out of his room with a special UN summit" invite -- a clear reference to Ahmadinejad's penchant for grandstanding when he visits New York City.
Ahmadinejad's big sulk may have to do with his fear of what will happen next, as, according to Sazegara, members of parliament are preparing a mechanism to impeach the president. Clerics close to Ahmadinejad have tried to convince him to find a way to compromise with Khamenei.
Websites close to the president have warned that if he is removed, things could get very messy – even violent.
"If Ahmadinejad is removed, the Supreme Leader will have two problems on his hands. His first, most powerful enemy could become the people of Iran. The leader tortured and repressed people to keep the president in power. His second problem will be the hardcore inside of the organization, like the Revolutionary Guard and the Ministry of Intelligence, those who presided over the repression and torture."
If Ahmadinejad loses, Sazegara believes, Iranian Foreign Policy will continue unchanged, because, in the end, it is the Supreme Leader, who as his title indicates, has the last say.
Cliff Kupchan of the Eurasia Group does not believe this all spells the end of Ahmadinejad.
"This is the most intense and public clash yet between the two. It's over control of the Intelligence Ministry, Ahmadinejad's growing power, and momemtum behind competing factions in the run up to next year's Parliamentary elections. But the core fact remains that Khamenei and Ahmadinejad are dependent on each other, they jointly anchor this regime's hard-line policies. It's very unlikely that the ambitious and combatative Ahmadinejad will quit or be impeached."
The airing of Iran's dirty laundry prompted the Supreme Leader to warn, "If there are disputes, we mustn't frown in front of the people, and give ammunition to foreign media."
But it's the Iranian press and blogosphere, that appear to have the ammunition these days, as foreign journalists are largely barred from reporting in Iran.