African children orphaned by Ebola shunned, face death, UNICEF says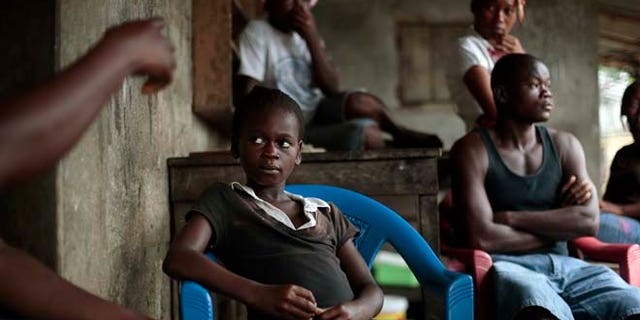 Thousands of African children who have lost parents to Ebola are facing a "potential death sentence" as they are at risk of being shunned from society, UNICEF says.
The U.N. organization said Tuesday that at least 3,700 children in Guinea, Liberia and Sierra Leone have lost one or both parents to Ebola.
"Thousands of children are living through the deaths of their mother, father or family members from Ebola," Manuel Fontaine, UNICEF's Regional Director for West & Central Africa, said in a statement.
"These children urgently need special attention and support; yet many of them feel unwanted and even abandoned," he added. "Orphans are usually taken in by a member of the extended family, but in some communities, the fear surrounding Ebola is becoming stronger than family ties."
UNICEF says reports suggest that the number of children orphaned by Ebola has spiked in recent weeks and is projected to double by mid-October.
"Ebola is turning a basic human reaction like comforting a sick child into a potential death sentence," Fontaine said.
To provide children with help, UNICEF is helping Liberia train 400 additional mental health and social workers. In Sierra Leone, the organization will train more than 2,500 Ebola survivors – who are now immune to the disease – to provide care to quarantined children and help them trace their parents. In Guinea, UNICEF and other partners aim to provide psychosocial support to 60,000 vulnerable children and families.
Meanwhile, as the death toll from Ebola soars, crowded clinics are turning over beds as quickly as patients are dying. This leaves social workers and psychologists struggling to keep pace and notify families, who must wait outside for fear of contagion. Also, under a Liberian government decree, all Ebola victims must be cremated, leaving families in unbearable pain with no chance for goodbye, no body to bury.
"People are standing around for weeks. Nobody is coming to them. There should be a system in place for disseminating information but there is nothing," says Kanyean Molton Farley, a 39-year-old community leader in one of Monrovia's hardest-hit neighborhoods.
At least 1,830 people are believed to have died from the disease in Liberia, and many fear the actual toll is far higher and rising fast. A recent update from the World Health Organization showed that more than half the cases in Liberia happened in the preceding 21 days.
Doctors Without Borders in Monrovia has three phone lines to answer calls from worried families. The group asks relatives to come in person for updates on their loved ones inside the 160-bed facility, but sometimes they get news from friends or family inside instead, says Athena Viscusi, a clinical social worker.
"We encourage them to come and meet with a counselor," says Viscusi. She notes that Doctors Without Borders hopes eventually to photograph the dead before cremation to help with identification.
Dozens of family members show up each day at the gates of the city's Ebola clinics, anxiously clutching cellphones and desperate for any update on their loved ones inside. They pace back and forth, leaving only to buy more phone credit. All the while, they keep a safe distance from those stricken with Ebola who huddle by the gates in hopes of gaining a coveted bed inside and a chance at life.
Linda Barlea, 32, is desperate to know what has become of her boyfriend of 13 years. One by one his family has been decimated by Ebola: First his brother, then his mother, then a sister, then another brother. Only the 7-year-old niece Miamu has survived, and then was chased from Barlea's home by fearful neighbors.
Barlea's mother called the clinic's official hotline for patient information and was told his name appeared on the list of the dead. Barlea says she needs to hear it for herself. But every time she calls now, she gets a busy signal. So she has shown up here, demanding answers before she will leave.
The lack of official confirmation has led to disastrous misinformation in some cases: Julius Prout's family held two wakes for him after being told by a security guard at the clinic that he was dead. Family members gathered first for several days at his parents' home, then at his uncle's.
Instead, health workers had merely moved him to another section of the hospital and burned his cellphone along with his belongings for fear of contamination.
When the 32-year-old nurse regained his strength almost a week later, the first thing he saw was a Bible given to him by a nurse. He says it is no coincidence that he opened it randomly to John 11, when Jesus raises Lazarus from the dead.
Prout then borrowed a phone to call the family. All he could hear was the deafening sound of loved ones yelling and cheering in the background.
"We rejoiced and were so grateful that he was alive," says his uncle, Alexander Howard, 57.
The Associated Press contributed to this report.