A history of the Islamic State group's atrocities, gains amid Iraqi offensive targeting Tikrit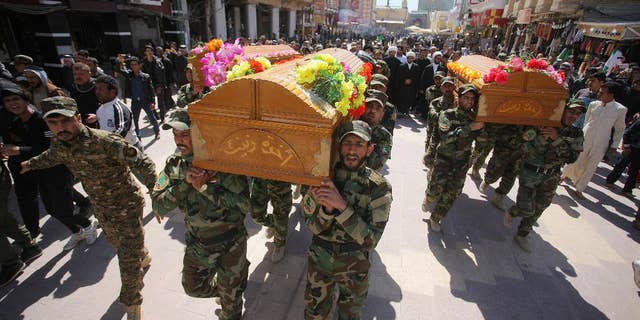 CAIRO – The extremist Islamic State group, which now controls a third of both Iraq and Syria in its self-declared caliphate, found itself targeted in a major offensive Wednesday that saw Iraqi soldiers and allied Shiite militiamen enter the city of Tikrit.
Though beaten back by airstrikes launched by a U.S.-led coalition, the Islamic State group remains a potent threat, Western officials warn. Here's a look at the group's birth, its atrocities and the world's response to the extremists.
April 18, 2010 — U.S. and Iraqi forces kill two top al-Qaida in Iraq leaders, allowing al-Baghdadi to become the leader of a terror group weakened by a concerted campaign aimed at ending a Sunni insurgency in the country.
Oct. 31, 2010 — Al-Baghdadi's al-Qaida militants attack Our Lady of Salvation Catholic church in Baghdad during Sunday night mass, killing 58 people in the deadliest assault targeting Christians since the 2003 U.S.-led invasion there. The militants reportedly demand the release of Muslim women they claim were held by Egypt's Coptic Christian church.
Oct. 4, 2011 — The U.S. puts a $10 million bounty on al-Baghdadi's head over a series of attacks he orchestrated.
July 21, 2012 — In his first purported online message, al-Baghdadi promises to regain lost ground in Iraq and calls on militants to "chase and liquidate the judges, the investigators and the guards." Within days, his group begins a campaign of attacks, car bombings and other assaults killing hundreds. He also mentions Syria, in the grips of a civil war pitting largely Sunni rebels against embattled President Bashar Assad. By this time, al-Baghdadi already has begun to send fighters there.
April 2013 — Al-Baghdadi announces his group has taken over the Nusra Front, the al-Qaida affiliate in Syria. Nusra denies the takeover, sparking anger and infighting that continues to this day.
July 2013 — A military-style assault by al-Baghdadi's fighters on two Baghdad-area prisons free more than 500 inmates.
January 2014 — Al-Baghdadi's forces sweep into Ramadi and Fallujah in Iraq's Anbar province, which Iraqi security forces had abandoned weeks earlier. That came after security forces killed demonstrators during a Sunni protest, effectively turning the unrest into an uprising.
Early February 2014 — Al-Qaida breaks with al-Baghdadi's group, now known as the Islamic State of Iraq and the Levant. Al-Baghdadi ignores al-Qaida as his group now has control of wide regions of Syria, including the city of Raqqa, which becomes the group's de facto capital.
June 10 — Al-Baghdadi's fighters take over Iraq's second-largest city of Mosul, followed by Saddam Hussein's hometown of Tikrit and smaller communities in the Sunni heartland as government forces melt away.
June 29 — The group declares the establishment of an Islamic state, or caliphate, in territories it controls in Iraq and Syria and demands allegiance from Muslims worldwide. It declares al-Baghdadi the leader of the new caliphate. The militants rename themselves the Islamic State group.
July 5 — A man purporting to be al-Baghdadi makes his first public appearance, delivering a sermon at a mosque in Mosul.
Aug. 8 — The U.S. begins targeting the Islamic State group with airstrikes, citing the humanitarian plight of Iraq's minorities, like the Yazidi.
Aug. 19 — The Islamic State group releases a video showing a jihadi behead James Foley, a 40-year-old journalist from Rochester, New Hampshire, in response to the U.S.-led airstrikes. This marks the first of many videos showing militants behead Western captives.
Sept. 2 — The Islamic State group releases a video showing a jihadi behead American-Israeli journalist Steven Sotloff.
Sept. 13 — The Islamic State group releases a video showing a jihadi behead British aid worker David Haines.
Oct. 3 — The Islamic State group releases a video showing a jihadi behead British hostage Alan Henning.
Nov. 8 — Iraqi officials say al-Baghdadi is wounded in an airstrike on an Iraqi town near the Syrian border. Days later, an online audio message purportedly from al-Baghdadi urges his followers to "explode the volcanoes of jihad everywhere."
Nov. 16 — An Islamic State group video shows extremists behead a dozen Syrian soldiers and U.S. aid worker Peter Kassig.
Jan. 10 — An online video shows Taliban fighters in Pakistan pledge loyalty to the Islamic State group and behead a man they identify as a soldier. Similar pledges previously arose from Egypt, Yemen and elsewhere in the Mideast. Afghan authorities later acknowledge a similar presence in their country.
Jan. 24 — A message claims the Islamic State group beheads Japanese hostage Haruna Yukawa, a 42-year-old adventurer, after earlier demanding $200 million for him and captive Japanese journalist Kenji Goto. Japanese and Jordanian officials attempt to negotiate a prisoner swap to free him and captured Jordanian pilot 1st Lt. Mu'ath al-Kaseasbeh.
Jan. 26 — Kurdish fighters take control of the Syrian border town of Kobani near Turkey after fighting the Islamic State group for months. U.S.-led airstrikes helped turn the tide for the Kurds.
Jan. 31 — The Islamic State group releases video saying it beheaded Goto.
Feb. 3 — The Islamic State group releases a video of it burning al-Kaseasbeh to death in a cage, sparking outrage in Jordan, which launches new strikes targeting the militants.
Feb. 6 — The Islamic State group claims a Jordanian airstrike kills American hostage Kayla Jean Mueller. U.S. officials later confirm her death, but say it wasn't caused by a Jordanian airstrike.
Feb. 15 — Libyan militants who earlier pledged their loyalty to the Islamic State group behead a group of Coptic Christians from Egypt in an online video.
Feb. 16 — Egypt launches airstrikes in Libya in retaliation for the beheadings.
March 11 — Iraqi troops and allied Shiite militiamen enter the Islamic State-held city of Tikrit, backed by Iranian advisers and forgoing the air support of the U.S.-led coalition.
___
Follow Jon Gambrell on Twitter at www.twitter.com/jongambrellap .