8 Dead as Typhoon Hits Northern Philippines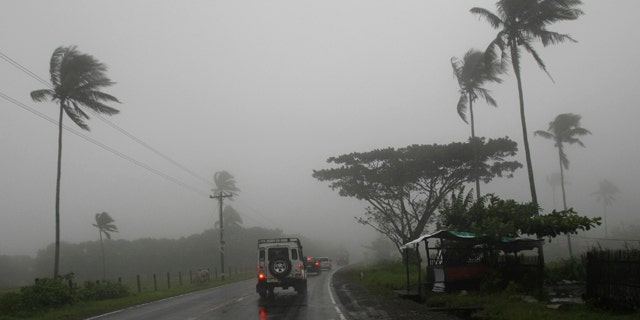 MANILA, Philippines – Slow-moving Typhoon Nanmadol remained dangerous Sunday despite weakening as it struck the tip of the mountainous northern Philippines, leaving at least eight people dead and scuttling a visit by a U.S. Navy battleship group, officials said.
Taiwan issued sea and land warnings and planned to evacuate about 3,700 people in its eastern and southern regions as it braced for the typhoon. Troops and rescue equipment have been deployed in advance for any contingency, Taiwan's Defense Ministry said.
With its enormous cloud band, the typhoon drenched northern provinces with rains for days before pummeling them with fierce winds, setting off landslides and floods and knocking down walls that left at least eight people dead and six more missing, said Benito Ramos, who heads the Office of Civil Defense.
Strong winds knocked down a concrete wall, which hit a small eatery in the capital's suburban Quezon City Sunday, killing a man and injuring two others in the latest casualties of the typhoon, police said.
In the northern mountain resort city of Baguio, a garbage dump's concrete wall collapsed and buried three shanties under tons of garbage Saturday, killing two children. Their grandmother remained missing, Ramos said.
Five others perished in landslides or drowned, including a fisherman, whose body was found floating Saturday off eastern Catanduanes province after he went missing late last week. A decision by many villagers to flee to safety before the typhoon struck and vigilance helped reduced the number of casualties, Ramos said.
A bus driver ordered his 18 passengers to rapidly alight after sensing the soggy mountain road they were on was about to collapse late Saturday in northern Benguet province. After they ran to safety, the road collapsed with the bus down a deep ravine, said regional disaster-response official Olive Luces said.
"The driver's presence of mind prevented a disaster," Luces said.
About 20 landslides cut off access to a number of Benguet towns, she said.
U.S. officials postponed a Manila visit by the U.S. Navy's John C. Stennis Carrier Strike Group, originally scheduled for this weekend, due to the bad weather.
The U.S. Embassy said all tours of the aircraft carrier, as well as the reception on board, had been canceled.
Domestic airlines also canceled more than a dozen flights to areas affected by the typhoon in the northern and central Philippines.
Nanmadol had sustained wind of 121 miles per hour and gusts of 143 mph Friday, becoming the strongest typhoon to hit the Philippines so far this year. It weakened after grazing northern Cagayan province Saturday. It would skirt the northernmost Batanes islands with 75 mph winds Sunday before starting to blow away from the country, Philippine government forecasters said.
Nanmadol was expected to hit Taiwan as early as Monday, Taiwan's central weather bureau said.