8 Arrested in Georgia for Protesting Lack of Access to Higher Education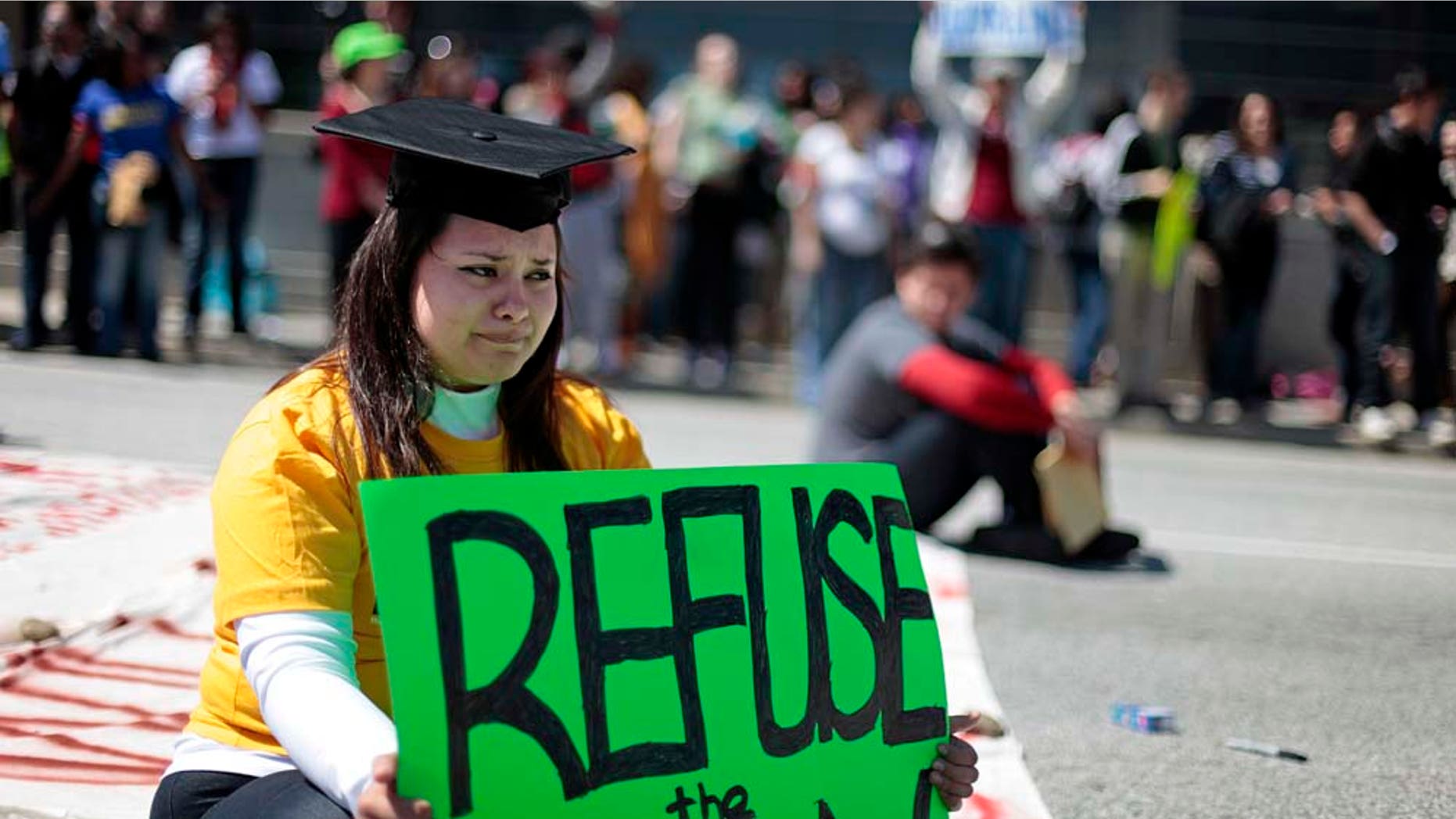 Georgia police arrested eight undocumented immigrants who were part of widespread demonstrations at the state capitol protesting their lack of access to college.
The group, made of mostly students, likened their struggle to the Civil Rights movement decades ago. They even met with former activists from the 1960s to develop their civil disobedience plans.
The youngsters sat in the road, at times holding hands, as hundreds of supporters lined the street and cheered in support. The cheers of support grew louder as the undocumented immigrants were led away in handcuffs.
Before the sit-in the youngsters, their voices trembling, each stood before the crowd, took a microphone and announced: "I am undocumented, and I am unafraid."
In telling their stories, they took a risk like many of their parents made when they came to the U.S. to find a better life. Many said that, despite their grades, they have found their immigration status might prevent them from going to college, in part because they can't afford costly out-of-state tuition fees. Most also don't qualify for federal aid and at times, state help.
The Rev. Timothy McDonald was one of the activists who met with the students at Ebenezer Baptist Church in the room where King and other preachers founded the Southern Christian Leadership Conference, the organization that led the movement for equality and justice for blacks.
"We felt the connection," McDonald said. "We pointed out that there has never been a successful movement of any kind without young people, and that was especially true of the civil rights movement. It was the students who filled up the jails, not the preachers."
The group protested in an effort to bring national attention to the issue of equal access to education. They are also upset with what they see as anti-immigrant legislation in Georgia and elsewhere across the country.
South Carolina passed a law banning undocumented immigrants from attending state colleges and universities, but a similar measure in Georgia failed. However, Georgia's university system late last year approved a rule that essentially bans undocumented immigrants from the five most competitive public schools in the state, if those colleges had rejected academically eligible students because of a high number of applicants.
The protest was not unlike the lunch counter sit-ins led by students in Greensboro, N.C., more than 50 years ago, and was similar to efforts staged recently across the country, including a sit-in at the Tucson, Ariz., offices of U.S. Sen. John McCain.
The protests are part of The Dream is Coming project, which was created to advocate for the DREAM Act, legislation that would provide a path to citizenship for certain young people who were brought here at a young age. It has failed to pass Congress several times, most recently in December.
One of the protesters in Georgia, Dulce Guerrero, said she was done being afraid.
"I've been living in fear for years, not knowing what's going to happen to my family," said the 18-year-old. "I'm tired of it. Today, I'm here to tell the world that I'm undocumented. I'm here for a lot of my friends who are still in the shadows. They need to step up and step out. There is no more being neutral."
The protesters were charged with obstructing traffic. Atlanta police do not participate in a local-federal partnership that empowers local law enforcement to enforce federal immigration law, so the likelihood of the students being turned over to U.S. Immigration and Customs Enforcement was low.
Based on reporting by The Associated Press.
Follow us on twitter.com/foxnewslatino
Like us at facebook.com/foxnewslatino