74 years on, 7 UK WWII airmen laid to rest in Albania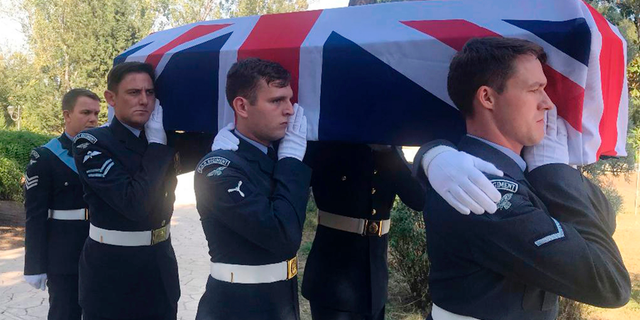 TIRANA, Albania – It was Sgt. John Thompson's ring that enabled searchers to locate his remains and those of six other British military personnel from a plane that crashed in Albania during World War II.
Seventy-four years after they were killed carrying out a supply mission over Albania, the seven airmen were finally laid to rest in an official funeral ceremony Wednesday in the Albanian capital of Tirana.
The U.K. Ambassador in Tirana and his counterparts from other Western European countries joined family members at the service at Tirana Park Memorial Cemetery. Hymns were sung, and an Albanian military band played.
"Today we honor those who sacrificed their lives for the freedom of future generations," said British Ambassador Duncan Norman.
The crew, who were 21 to 38 years old, took off from Brindisi, Italy to carry out a supply dropping mission code named Operations Tinker in Albania, where the British was fighting alongside Albanian partisan forces. Their Halifax JP244 bomber crashed in a mountainside in Biza on Oct. 29, 1944.
Records noted that "it was seen to drop its load on the target," but nothing further was heard from the aircraft.
In 1960, resident Jaho Cala found Thompson's finger with the ring near where the plane crashed, and hid it, afraid to show it to Albania's then-communist officials. Upon the fall of the communist regime in 1990, his son contacted the U.S. and British embassies, leading to the finding of the remains in 2015.
Wreckage from the aircraft was found after recent wildfires in Albania.
"The ceremony today is the final piece in the jigsaw of this amazing story, from the finding of the wreckage to the burial of the crew. We feel humbled and are grateful to all concerned," said Brian Webster, Thompson's nephew.
___
Follow Llazar Semini on twitter: https://twitter.com/lsemini