6 UK troops missing, presumed dead in Afghanistan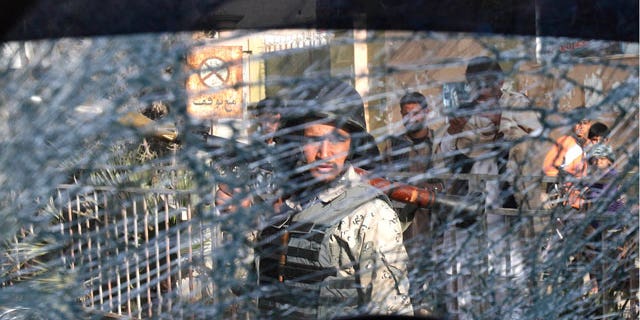 LONDON – Six British soldiers were believed killed after an explosion hit their armored vehicle in southwestern Afghanistan, Britain's Ministry of Defense said Wednesday. If confirmed, it would be the biggest loss of life for British forces in the country since a plane crash in 2006..
The soldiers were on patrol in Helmand province at the time of the blast on Tuesday evening. The military did not explain why they are unable to confirm whether the soldiers were killed.
"This tragic incident brings home to us the dangers that are faced on a daily basis by the men and women of our armed Forces deployed in Afghanistan," said Defense Secretary Philip Hammond said. "My thoughts are with the families and friends of the six soldiers who are missing, believed killed and also with their colleagues, both in Afghanistan and the UK, whose brave work continues or is about to start."
The deaths would be the biggest loss of life for Britain in a single incident in Afghanistan since a Nimrod aircraft crashed in 2006, killing 14 service members. It would be the largest number of casualties in a ground operation for Britain in the country.
It would also be the deadliest single incident for NATO since Jan. 19, when six U.S. Marines died in a helicopter crash in Helmand province. Last August, insurgents shot down a Chinook helicopter, killing 30 American troops.
In London, British Prime Minister David Cameron said it was "a desperately sad day for our country."
"This is a desperately sad day for our country and desperately sad of course for the families concerned," Cameron said, adding that troops in Afghanistan were paying a huge price. "I do believe it's important work for our national security right here at home but of course this work will increasingly be carried out by Afghan soldiers and we all want to see that transition take place."
In Helmand, a spokesman for the British Task Force said the six were missing and believed killed. The families of the British soldiers have been informed.
"The six soldiers, five from the 3rd Battalion the Yorkshire Regiment and one from the 1st Battalion The Duke of Lancaster's, were on patrol in a Warrior armored fighting vehicle when it was caught in an explosion in the Task Force Helmand area of operations," said Lt. Colonel Gordon Mackenzie.
So far this year, 54 NATO troops have been killed in Afghanistan, including 38 from the United States and four from Britain.
Helmand has been the deadliest province by far for coalition troops since the Afghan war started over a decade ago. Most of Britain's 9,500 soldiers are based in Helmand, and the province also has thousands of U.S. troops.
The Taliban have fought fiercely for control of Helmand because the province accounts for about half of all poppy production in Afghanistan. Poppy is the main ingredient in making opium and has been a significant source of revenue for the militants.
If the latest deaths are confirmed, more than 400 British forces personnel or MOD civilians will have died while serving in Afghanistan since the start of operations in October 2001. Until Wednesday, Britain had lost 398 troops.
Britain has lost more troops in Afghanistan than any other country except for the United States, which has counted at least 1,780 members deaths as a result of the U.S.-led invasion of Afghanistan in late 2001, according to an Associated Press count. The AP count of U.S. deaths is six less than the Defense Department's tally. At least 1,484 military service members have died in Afghanistan as a result of hostile action, according to the military's numbers.
More than 2,800 troops from all nations have died since the start of the war on Oct. 7, 2001.
There are about 130,000 troops from 50 countries serving with the international military coalition.
The United States has been slowly drawing down its troops presence from a high of about 100,000 in 2011 to 68,000 at the end of summer.
Britain has the largest contingent in the international force and says it will withdraw several hundred this year and almost all of them by the end of 2014. It is followed by Germany, with about 4,800, and France with 3,600 soldiers.
The NATO-led international force in Afghanistan has been steadily handing over responsibility for security to the Afghan army and police. All foreign combat troops will have left Afghanistan at the end of 2014. Some troops may remain in a counterterrorism and training role after that date.