3 bodies found at Italian hotel buried by avalanche as search continues for dozens feared dead
Three bodies were pulled out of the rubble at a four-star spa hotel in Italy as rescue workers continued to search for dozens of people feared dead after an avalanche hit the area Wednesday.
Two people escaped the devastation at the Hotel Rigopiano in the mountains of the Gran Sasso range and called for help, but it took hours for responders to arrive to the remote zone.
Rescue workers, who first arrived on skis reported no signs of life while heavy snow conditions hindered heavy vehicles struggling to get to the scene.
While twenty guests and seven staff members, including some children, were registered as being at the hotel, rescuers say that the actual number could be upwards of 35.
SPAIN'S SOUTHERN TOWNS POST FIRST SNOWFALLS IN DECADES
"There are many deaths," said Antonio Crocetta, the head of a mountain rescue team, according to BBC News.
Days of heavy snowfall had knocked out electricity and phone lines in many central Italian towns and hamlets, compounded by four powerful earthquakes that struck the region on Wednesday.
It wasn't immediately clear which if any of the quakes triggered the avalanche. But firefighters said the sheer violence of the snow slide uprooted trees in its wake and wiped out parts of the hotel, leaving only some structures standing and others down the mountainside.
"There are mattresses that are hundreds of meters (yards) away from where the building was," Luca Cari, firefighters' spokesman, told the ANSA news agency.
The hotel in the Abruzzo region is about 45 kilometers (30 miles) from the coastal city of Pescara, at an altitude of about 1,200 meters (3,940 feet). The area, which has been buried under snowfall for days, is located in the broad swath of central Italy between Rieti and Teramo that was jolted by Wednesday's quakes, one of which had a 5.7 magnitude.
4 QUAKES SHAKE ITALY, ISOLATING TOWNS BLANKETED UNDER SNOW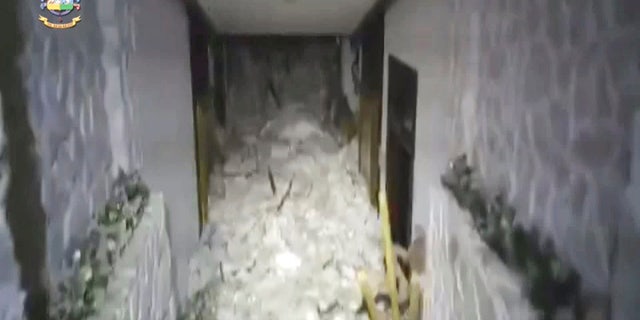 Giampiero Parete, a chef vacationing at the hotel, called his boss when the avalanche struck and begged for him to mobilize rescue crews. His wife Adriana and two children, Ludovica and Gianfilippo, were trapped inside, employer Quintino Marcella told The Associated Press.
Parete had left the hotel briefly to get some medicine for his wife from their car, and survived as a result.
"He said the hotel was submerged and to call rescue crews," Marcella said, adding that he phoned police and the Pescara prefect's office, but that no one believed him. "The prefect's office said it wasn't true, because everything was OK at the hotel."
Marcella said he insisted, and called other emergency numbers until someone finally took him seriously and mobilized a rescue, starting at 8 p.m., more than two hours later.
A photo shared by officials show the walls of snow alongside the road reaching above many of the vehicles.
The buried hotel was just one of several rescues underway in an area that has been pummeled by more than a meter (three feet) of snow in recent days — storms that have knocked out power and phone lines and blocked roads, isolating towns and hamlets.
Italian Premier Paola Gentiloni told reporters Thursday that the priority is to reach all isolated towns and hamlets that have been buried under snowfall for days and then jolted by four powerful quakes on Wednesday.
Gentiloni said: "I ask everyone if possible to multiply their efforts. I ask politicians to show sobriety respecting the difficulty of the situation and the commitment of civil and military crews who are responding."
Residents have been complaining for days that they have been without electricity because of what Gentiloni called a "record snowfall."
The mountainous region of central Italy has been struck by a series of quakes since August that destroyed historic centers in dozens of towns and hamlets. A deadly quake in August killed nearly 300, while no one died in the strong aftershocks in October largely because population centers had already been evacuated. In the meantime, the entire region has been hit by freezing weather and buffeted by snowstorms, piling more suffering on to the hard-hit population.
People left homeless by the earlier quakes had been moved to hotels in the region, but it wasn't immediately clear if any of them were staying at Hotel Rigopiano, which is located in the Gran Sasso National Park.
On Tuesday, the hotel posted photos of the recent snowfall, calling it "a dream Tuesday. Snow is giving us spectacular scenes." It advised guests that roads were still passable but snow tires were required with chains for cars. In the hours since the report of the avalanche, Facebook users have been posting messages on the hotel's page seeking information about the hotel.
The Associated Press contributed to this report.