22 Killed in Car Bombings South of Baghdad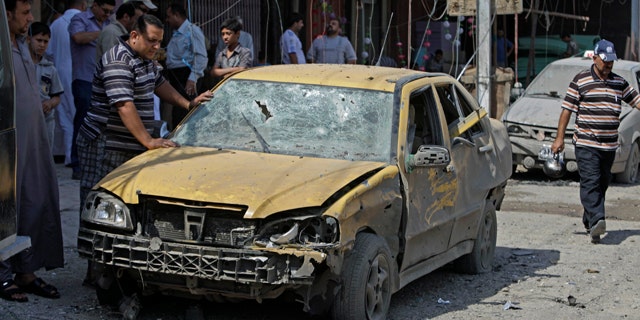 BAGHDAD -- Suicide bombers detonated two explosives-laden vehicles early Tuesday near a government compound by a southern Iraqi governor's home, killing at least 22 people and wounding dozens, Iraqi officials said.
The attacks come as Iraq's top political factions started to discuss in earnest whether to ask some of the U.S. troops to stay beyond the Dec. 31 withdrawal deadline because of the security situation.
While violence is well below what it was during the years that followed the 2003 U.S.-led invasion, militants are still able to launch deadly attacks. The ongoing violence has led to concerns about what happens when the 47,000 remaining U.S. troops are withdrawn.
Still, such violence is rare in the mostly Shiite province of Diwaniyah, which is 80 miles outside of Baghdad and well south of most of the insurgent strongholds.
Diwaniyah Gov. Salim Hussein Alwan said he was leaving his house when a suicide bomber rammed into a police checkpoint outside his house.
"I was in the garage preparing to leave when the attacker hit the police barrier outside and crashed with their vehicle," Alwan told The Associated Press in a phone interview.
Minutes later, another suicide bomber attacked a compound housing the governor's office and other governmental buildings, according to a police officer and two medical officials who spoke on condition of anonymity because they are not authorized to speak to journalists.
At least 37 people were wounded in the attacks which occurred at about 7:30 a.m. when security forces were changing shifts, the officials said.
Like most government buildings in Iraq, the governor's house and office are surrounded by walls, and visitors must pass through checkpoints manned by security forces to get inside. The attackers did not appear to make it through the security perimeter but blew themselves up at the checkpoints.
"I had no idea what happened," one security personnel told Iraqiya TV from his bed at the hospital. "I heard only an explosion, flew to the air and went back to ground," he added as his neck and abdomen were bandaged.
No one has claimed responsibility of the attack, but suicide bombings are the hallmark of Al Qaeda in Iraq.
The last major attacks in Diwaniyah had been in 2009 when a bomb attached to a bus killed six people and 2007 when roadside bomb targeted a police patrol, killing at seven officers.
Hamid al-Mutlaq, a Sunni lawmaker and member of the parliament's security and defense committees, blamed Tuesday's attacks on political disputes that have delayed the selection of top security posts.
Iraq's prime minister has failed to fill the top posts at the interior and defense ministries more than five months after he seated his government for a second term. The country's warring political factions have been unable to agree on who should run the powerful and sensitive positions.
"We have said before that there is a failure in the security forces and they are infiltrated," al-Mutlaq said.
In Baghdad, a bomb attached to a minibus killed the driver while the bus was traveling Tuesday in the capital's western Harithiya neighborhood, army spokesman Maj. Gen. Qassim al-Mousawi said. It was not immediately known what was the motive was behind the attack.
And two soldiers were killed and five other people were wounded when a roadside bomb hit an Iraqi army patrol in Baghdad's eastern Palestine Street, a police officer said.
Also Tuesday, an Al Qaeda-linked group claimed responsibility for a brazen attack last week against a government compound in northeastern Iraq. Assailants set off a suicide car bomb and then stormed the compound in Diyala province, killing nine people.
The Islamic State of Iraq, a front group for Al Qaeda in Iraq, has claimed responsibility for a number of recent attacks on government facilities similar to the one carried out last week in Baqouba.