20 men found guilty of raping more than a dozen teenage girls in northern England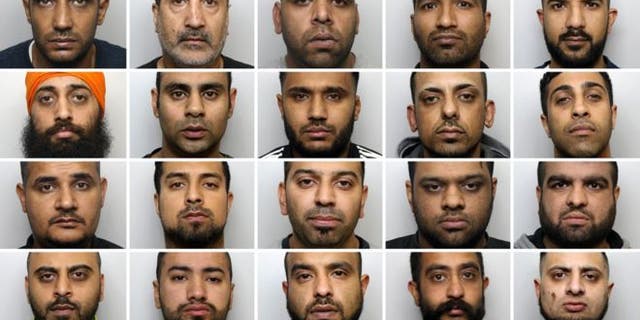 Twenty men in the United Kingdom have been convicted of raping and abusing more than a dozen teenage girls in the northern city of Huddersfield.
The convictions are the latest in a series of child sexual exploitation cases in the region. Prosecutors said the men embarked on a "campaign of rape and other sexual abuse" against vulnerable girls between the ages of 11 and 17.
The men were found guilty in a series of trials earlier this year. A judge lifted the reporting restrictions on Friday.
The sentences have totaled 221 years in prison.
Among those guilty was 35-year-old Amere Singh Dhaliwal, whom prosecutors said was the gang's ringleader.
He was found guilty of 54 separate charges, including 22 counts of rape involving 11 girls. He was sentenced to life in prison with a minimum of 18 years.
A judge told him earlier this year: "You treated them as commodities to be passed around for your own sexual gratification and the gratification of others."
"They extend and gravity of your offending far exceeds anything which I have previously encountered," the judge continued, according to Sky News.
1,510 CHILDREN ABUSED IN ROTHERHAM SEX SCANDAL, NEW REPORT SAYS
Judge Geoffrey Marson QC, when he sentenced 16 of the men earlier this year, reportedly said: "The way you treated these girls defies understanding; this abuse was vile and wicked."
"As cases of sexual abuse with which the courts have to deal, this case comes top of the scale," he added, according to the BBC.
Outside the court on Friday, Michael Quinn, the head of complex case unit at CPS South Yorkshire and Humberside, told reporters the case involved "cynical exploitation of young girls by a group of older men."
He said the men "deliberately targeted their victims because of their vulnerability" and "groomed them and exploited them for their own sexual gratification."
Similar cases have erupted across South Yorkshire, with the National Crime Agency (NCA) reporting earlier this year that they believe upwards of 1,510 girls are believed to have been sexually exploited in the region over a 16-year period.
The NCA said it had identified 110 people suspected of being part of child-grooming gangs in Rotherham, the largest town in South Yorkshire.
Huddersfield is located in West Yorkshire.
Police officers in Rochdale, Oxford and Newcastle have also had their own child sexual abuse scandals in recent years that follow a pattern grimly familiar to those in Rotherham and Huddersfield.
The cases have heightened racial tensions and spurred criticism of both local authorities who failed to protect vulnerable girls and police, who often did not listen to the victims.
The Associated Press contributed to this report.