2 US couples reportedly banned from leaving Thailand with surrogate babies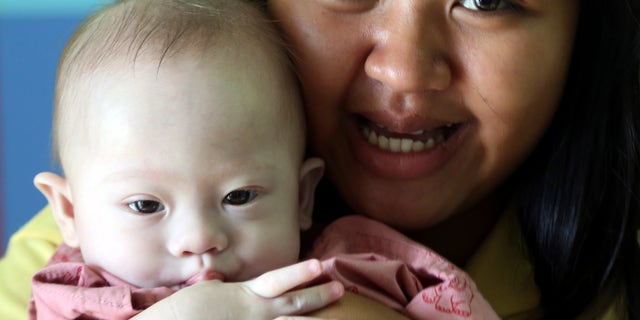 CANBERRA, Australia – Several couples from the United States and Australia have been prevented from leaving Thailand with surrogate babies as part of a government crackdown on the burgeoning commercial surrogacy industry, an Australian broadcaster reported Friday.
Thailand's military junta, which seized power in May, has indicated it wants to ban commercial surrogacy in the Southeast Asian nation following recent publicity over allegations that an Australian couple had abandoned a baby boy born to a surrogate Thai mother after learning he had Down syndrome. The couple, who took the boy's healthy twin sister home, has said they wanted to bring the boy with them and the Thai surrogate has acknowledged she kept him because she feared he would end up in a state institution.
On Thursday, two Australian same-sex couples were prevented by Thai officials from leaving the Bangkok airport with babies born to Thai women, Australian Broadcasting Corp. reported. One couple had attempted to travel with the Thai surrogate mother in the hope of avoiding a challenge at the immigration desk, ABC said.
Two U.S. couples were also prevented from leaving Thailand with babies in similar circumstances since Wednesday, ABC said.
In Bangkok, Col. Suwitchphon Imjairatch, a Thai immigration police commander overseeing the city's Suvarnabhumi Airport, could not confirm those cases. However, he said he was aware of one heterosexual Australian couple that was stopped from leaving Thailand on Thursday with their surrogate baby "because their documents were not sufficient."
He had no other details.
Thai officials told ABC the couples would have to apply for court orders to take the babies from the country, a process that could take months.
Thai immigration police spokesman Col. Voravat Amornvivat said the Bangkok airport's immigration departure section had no record of Australian couples with surrogate babies who were barred from leaving Thailand. He said, however, that it might be possible that it was not flagged in the system.
"If it did happen, it could be because the couples could not provide sufficient documents to prove that the babies are theirs," Voravat said. "Under Thai law, in order to bring an infant out of the country, it has to be proven that the infant is traveling with or accompanied by the parents. And due to the recent surrogacy issue, the authorities are stricter in keeping an eye on those leaving the country."
Melissa Sweeney, a spokeswoman for the U.S. Embassy in Bangkok, said in an email that the embassy was aware of reports that some parents with children born to surrogates have not been permitted to leave Thailand. Embassy officials were seeking clarification about Thailand's immigration requirements and talking to Thai government authorities to determine what the ramifications may be for U.S. parents who have already entered into surrogacy agreements in Thailand, she said.
Australia's Department of Foreign Affairs and Trade on Friday would not confirm the ABC's report, citing privacy reasons.
"We strongly urge Australians entering Thailand for the purposes of commercial surrogacy to seek independent legal advice in both Thailand and Australia before doing so," the department said in a statement. "In particular, they should seek advice on the implications of any new exit requirements."
Scores of surrogates in Thailand are currently pregnant through Australian biological parents.